This is the second in my series of introductory posts on "New Yarns – New Designs to Come", and peek into the designing day at the HeartStrings studio. Today I am going to show you Colinton 1000 yarn and give you a hint about what's planned for my new design in this yarn.
Colinton 1000 is a 2-ply fingering yarn of 100% mohair from young Australian goats. There's a lot of useful information at the Colinton Angoras website about the origin of mohair and its unique qualities; well worth your time if you enjoy learning more about where and how yarn comes about to be.
Colinton's yarn is different than the mohair yarn you are probably used to seeing and using. The Colinton mohair yarn is not brushed; rather, it has a "flat" look (i.e. far less halo than the usual mohair yarn), and there is a sheen. Thus, it retains good stitch definition, lending itself well to knitted lace and textured fabrics.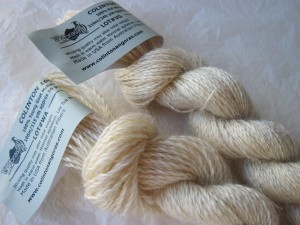 I have done designs for Colinton's yarns before (e.g. the White Lotus Stole using Colinton 3000 ultra-fine laceweight and Coronet Collarette using Colinton 1000 fingering). So I was pleased that I was approached again by Colinton to prepare a new design they will be offering in their new line of Tucker Box kits.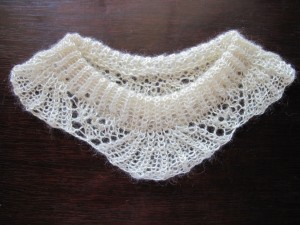 Over a series of phone calls, emails and sample skeins, we discussed the target yarn amount for the new project and its general design concept — a wide lace fashion scarf/mini stole with beads that would use 3 balls/skeins of either Colinton 1000 fingering or 2000 laceweight.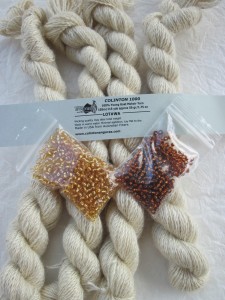 This new design will be in Colinton's  natural colored, un-dyed yarn with beaded accents in 2 colors. This yarn already has lots of class. So I don't want to overwhelm the design with a lot of beads. The plan is for just enough to give a touch of color here and there. The working title of the design is "A Touch of Beaded Class".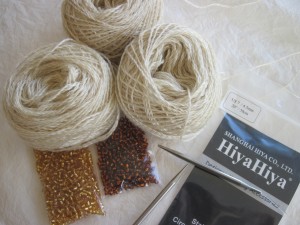 Stay tuned for Chapter 2. 🙂
p.s. Yes, that is an endorsement of HiyaHiya needles. I just think they are good needles (fantastic joins on the circulars) at a good price.