This is the second installment of the series that began with What will it become? … The next logical question is What is it becoming? So let's start off again with the Crystal Palace Sausalito yarn. If you missed the beginning of this series, it is here.
I am loving the Sausalito!
I had wanted to say that I am having a ball with the Sausalito, but actually I am having 2 balls of fun. That is because I have 2 balls in the Monet colorway that are being turned into the sample model for a new beaded scarf design.
In the design for this yarn, here are the goals I am focusing on —
textured knit and purl for pleasing reversibility
undulating movement of color (to emphasize the long runs of color in this yarn)
self-shaping edges (no hard lines here; just more movement against negative space)
and of course beads, but they will just be accents here and there to add to the interest, rather than detract from the flowing colors of the yarn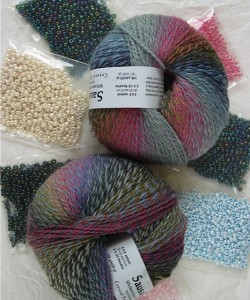 Remember the beads that I was considering last time? I decided on the #430 Miyuki blue-lined white ceylon beads. It's always a difficult choice. The blue-lined white and the #592 ivory ceylon were my finalists. I felt the Monet color together with this stitch pattern and the plan to have occasional bead accents (rather than an all-over beaded pattern) required contrast. Either of the finalists would have worked out equally well. But that subtle blue won out this time. Maybe on another day, the ivory ceylon would have been the winner.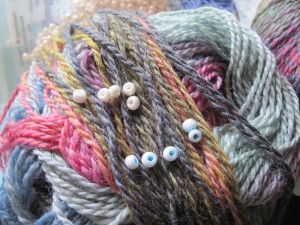 And I did tell you that I'd give you a peek into what the yarn is becoming.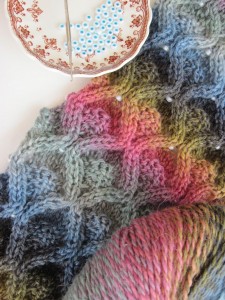 This project is hard to put down because of looking forward to the next new color to come up. That always makes the knitting go faster for me. Does it for you?