Next up in my series of introductory posts on "New Yarns – New Designs to Come" is the new Symphony DK and Solo yarns from Tilli Tomas.
I have done several designs for Tilli Tomas in their other yarns, but not in the Symphony DK and Solo as they are new. Symphony is a single-ply yarn of 70% silk / 30% kid mohair plied with tiny seed beads on skinny 2-ply silk thread. Solo is the companion non-beaded single-ply yarn.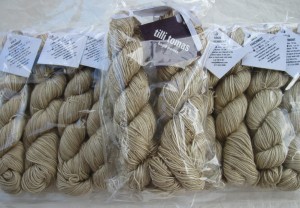 I had not previously seen these particular yarns in person prior to Tracy Robinson, owner and designer of Tilli Tomas yarns, asking me to do another design for her. But I had no doubts that I would love the yarn, as I've never met a yarn of hers that I haven't loved to design with. Apparently she does not have doubts of me, either. Based only on a loose idea concept for an unstructured over-garment I proposed in my reply to her email, she sent the whole project's worth of ample yarn.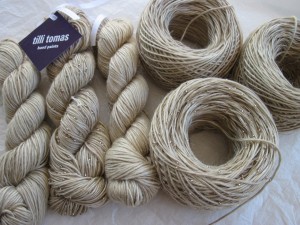 These yarns are hand-painted in subtle colors. This one is named "Parchment". In the above picture, you can now see some of the yarn outside of its clear packaging. To get started, I have wound a few skeins into donuts. (Note: these would be center-pull balls, but with the non-elastic nature of the silk, the hole from the ball winder stays open — I think they are cute) Be sure to enlarge the picture (click on it) so you can better see the structure of the yarn and subtle variation of the colors.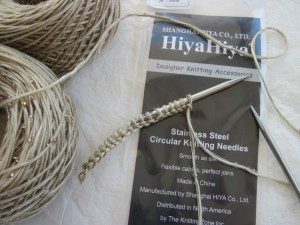 I've drawn a rough schematic of the vest with ancient technology: pencil and paper. And now with my ideas for the stitch patterns I will use (taken from various sampler scarves I've made in the past to experiment with stitch patterns), I am ready to start swatching. This swatching is not to achieve a pre-established gauge. Rather, the gauge will be determined later based on the results of the swatch(es) and needle size that gives the results I want for this design. To begin, I am targeting a needle size US 7 / 4.5 mm, but that could change based on look, feel, drape and stability of the fabric in the pattern stitches I choose.
So thats today's peek into the designing studio. I'd better get back to work now, as there is much still to be done. Stay tuned for future blog posts about how the new designs are progressing.