Carole wrote: "So — I'll bite! What kind of a leaf is it?"
A couple of months ago while watching the leaves change color in Colorado, I envisioned the design for a garland of leaves that would change color auto-magically while knitting with a ball of yarn in slow-changing colors (I used Crystal Palace Mini Mochi yarn). That was the concept behind what eventually became Fantasy Leaves Scarfette.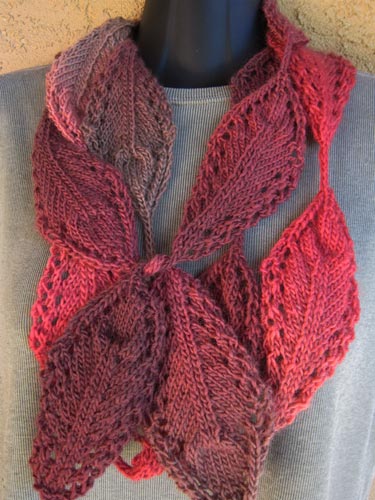 I had a lot of fun playing around with designing the leaf-like shape that incorporated a bit of lacy holes, some veiny texture, and hint of serrated edges. Then I realized I had come up with a leaf that I could not identify in nature as we now know it. I guess that is what "art" is about – ha! ha! At a loss for any specific leaf name(s), I simply went with them "Fantasy Leaves" which, after all, was a true statement.
John humored me by suggesting I should have a "name that leaf" contest. Sounded silly at the time, but then I thought — sure, we can do that. That is how the "What Leaf Is This" Weekend Giveaway came about.
So many good answers (I wish I were as creative with words as some of these!) — I thought it well worth pulling them all together here so we can all enjoy them. I was rolling with laughter with some of these.
Diana said: This is obviously a BeLeaf. I believe I can knit, I believe I can create, I believe things made by hand are the most beautiful. I am full of BeLeaf.
Knittingdancer said: It is the last leaf to fall off the yarn bombed tree.
Sydnie said: Evidently it is the Greta Garbo leaf. . . leaf me alone. . .
Carolyn said: Black walnut. Definitely black walnut. See them every year at the end of fall all over my back yard. You may come pick the rest of them up if you wish:)
Girliefriend said: It's one of many leaves I see with my rose colored glasses.
Susan said: Related to a pear tree leaf, which is one of the earliest trees to bloom (beautiful white blossoms) in our neighborhood in the spring, so if I knit this, I can "beleaf" that spring is almost here (I am so not a dreary days winter person). It could be one leaflet of a rhododendron, but I don't have those in my yard so I wouldn't think of the scarf as that. But yes, a pear tree leaf would work for me.
Andrea said: this is the most beautiful leaf to fall this year
Kay said: As my husband says about ANY plant he doesn't know … "It's a curly leaf ligustrum!"
Saunya said: Tough question, since it could be many, but I'll go with Magnolia.
Judy said: The real leaf
Ron said: The Diamond Leaf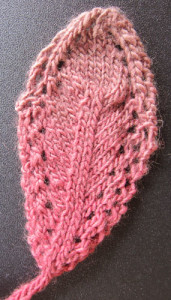 Which are your favorites? Or if you have another take on "What Leaf Is This", let us know your thoughts, too.