Remember when I posted about the Knitting Giant Beads for Mardi Gras last week? Well, that stirred up a lots of interest and appears to have inspired several people to make up their own. It's always so much fun to hear that people are enjoying the ideas and photos.
I got to thinking about some people who may not have ready access to the supplies. So I decided on a whim to offer a Limited Edition supplies kit to make the beaded balls in the Mardi Gras colors of purple, green and gold. Some orders have already come in, so I have been scurrying around today catching up on my promise to do these kits.
I made some pretty labels for the clear draw string bags. Wound the purple and green sock yarn from Lornas' Laces (in the color Funky Stripe). Weighed and packaged the metallic gold beads (the good Japanese beads in the Miyuki brand that is on the top of my list of recommendations).  Weighed the fluffy non-allergenic stuffing. Pant – pant. And now I have a batch of kits ready to send out.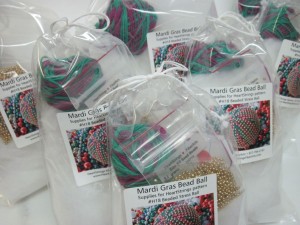 If you don't otherwise have a good source to get the supplies (e.g. your local stores or even stash-diving), then consider the Mardi Gras Bead Ball Kits as a way to conveniently get the yarn, beads and stuffing. Kits are available in 2 sizes: the single ball kit (i.e. to make one ball) OR the multi-pack (to make 3 balls, which is a 50% savings over buying a 3rd single ball kit plus a savings on shipping).
There's been lots more exciting stuff going on at my HeartStrings  studio, so I'll be back to tell you about that in a day or two. Also, I have a meatless recipe lined up to share with you in a few days. Oh, where does the time go? See you soon. Take care.