In the holiday spirit, I began with the bright red yarn in my sample box of yarns sent to me for TNNA's Great Wall of Yarn (GWOY). Knitting samples of new yarns and colors to be released at the next TNNA Show is just one of the many benefits in which Association of Knitwear Designers (AKD) members, such as I, can participate.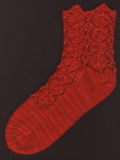 This is ShibuiKnits Sock, 100% Superwash Merino, 50g/191 yds(175m), color #1797. The color is subtle variegations of warm red tones. At the ShibuiKnits website, the color is described as Chinese Red (S1797) – Medium true red. The yarn feels very soft yet has a sturdy, defined 2-ply twist. Here it is, knit into a sandal style adaptation of my HeartStrings pattern #A36 Heart Socks.
This Heart Sandal Socks adaptation is
a shorter-legged sock with naturally scalloped cuff (this results from the bias structure of the lace heart pattern. I cast on 48 sts and started immediately with round 2 of Chart A in the original pattern instructions),
lace heart pattern brought down into the heel (because this area will not be covered up when worn with sandals), and
heart pattern ended sooner on the foot than the original (since the lower foot area is likely to be covered with a sandal strap).
I just used some of my old-time Boye aluminum size US 2 double point needles. Green, in this case, to carry out the holiday spirit, lol.
If you are making this adaptation, be sure to cast on very loosely so that the distance between stitches is adequate for the up-and-down shaping along the fancy edge. For tips, read my article Cast On for a Good Finish.
The original instructions were to decrease the gussets to a 54 stitch foot, and that is what I also used in this sandal sock version. The sock was originally designed this way because the lace heart pattern expands quite a bit compared to plain stockinette.
I am pleased with this Shibuiknits Sock yarn and how it worked up into this sandal sock. The feel of the yarn and stitch definition is very nice. When washing, there was no dye run-off either.
I happened to notice that one of our other AKD members, Dawn Brocco, had sampled for the same color in another of ShibuiKnits yarn – their 100% Shibuiknits Merino Kid. Stop by Dawn's Life and Design Blog to see the cute mini red stocking cap she came up with.
Over the next few days I'll post pictures and info on the other yarns and sample "swatches" I made. 'Til then …