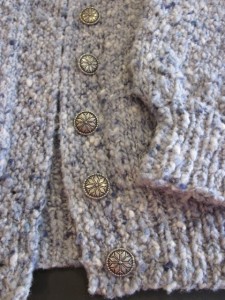 Have you ever thought about attaching your buttons directly onto a sweater button band as you knit/crochet, rather than sewing them on afterwards? I did that a number of years ago when making Medrith Glover's Circumnavigated Cardigan. The unique construction of this sweater produces a totally seamless garment. Yay! no seams to sew. (Which I usually do try to avoid anyway unless there is a trade-off that warrants sewing as the lesser of two evils — also see To Seam or Not to Seam).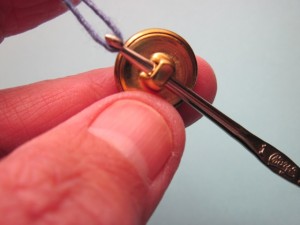 As I neared the final steps of the sweater though, I realized that there would still be buttons to sew on. That got me thinking about making this project into a totally "new sew" one. My approach was to actually knit the buttons into the band. While knitting the band, when I reached a place where a button was to be attached, I just
pulled up a loop of yarn through the button shank,
placed that loop on the working needle, then
Some points —
This method is appropriate only for buttons with shanks.
To pull up the loop of yarn through the button shank, I used a small crochet hook (or you could use a small piece of bent wire).
I would only recommend this technique be used with a sturdy yarn and a relatively firmly knitted button band.
A similar approach could be used with a crocheted button band.
So that's a little about attaching buttons to a sweater band while knitting or crocheting. Tuck it metaphorically into your knitting bag of tricks and it just might come in handy some day for a "when you're done, you're done" project.