I wanted to share with you, my friends, a little announcement about Lace Cross, my latest HeartStrings pattern. This ornate cross can be used as a bookmark, communion gift, mounted and framed, or a thoughtful Christian token of friendship.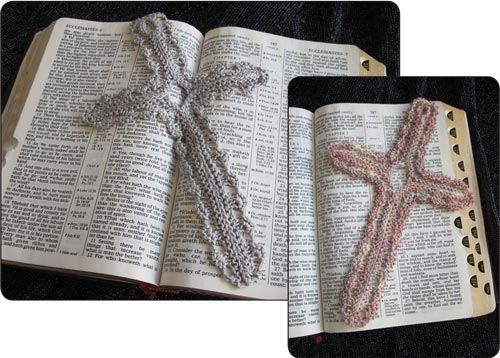 Right now, it is available as pdf or hard-copy pattern. I am thinking of offering as a kit, too. But first I'll see if there is interest in kits or just the pattern where people can select their own yarn and (optional) beads.
These crosses work up very quickly. They are knitted as a wide lace strip and then shaped using an interesting seamless construction. The pattern includes both the basic set of instructions for the version without the beads, and also a beaded cast on version.
I'll be announcing this new pattern in the upcoming November dealer newsletter, but wanted to give everyone a heads up earlier than that  for the gift-making and gift-giving season that we're already getting into.