I've been obsessed with making even more of the Beaded Stress Balls, but this time using Mardi Gras as the theme. I even worked up some simple variations to produce different geometric patterns on the surface of the balls.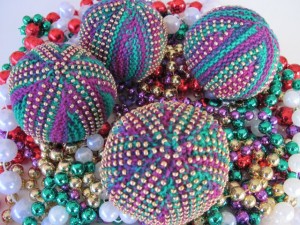 Probably only people close-by in New Orleans, Louisiana will relate to these. Or those who keep up with Mardi Gras. Each year at Mardi Gras, it seems that everyone is trying to out-do last year's largest throw-me-somethin'-mista beads of the carnival parades. I won't be throwing any of these giant beads to anyone, though (I am keeping them!).
I've used Lorna's Laces Shepherd Sock yarn in color Funky Stripe. It is a purple and green yarn. With the galvanized gold seed beads, I think it carries off the theme of traditional Mardi Gras colors pretty well.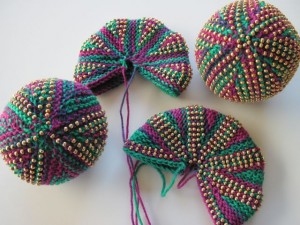 If you'd like to knit some of these yourself, I've written up the variations to the original instructions at my Ravelry project page. But you will also need the original Beaded Stress Ball pattern to use for the basic instructions. Besides the overall beaded ball in the original instructions, the Ravelry page has guidance for these 3 variations:
Alternating sections beaded and un-beaded
Outer edges of each section beaded and remainder un-beaded
The negative of #2: Interior of each section beaded and the outer edges left un-beaded
I love how such simple changes can result in attractive and interesting designs.
Each ball only takes about 25 yards of yarn. So, out of a single skein of yarn, you could make a bunch of balls. Or undoubtedly you probably have some partial skeins/balls in your stash for which this could be a fun use.
I can imagine in my wildest dreams to make an entire giant "beaded" necklace out of hand-knitted beaded balls like this, but I probably should get onto some other knitting now. What do you think?