So many exciting things are happening and I am bubbling over to tell you. Please share my excitement about 3 wonderful things going on with Patternfish.
Firstly, I am honored and excited to be the Designer of the Month at Patternfish for January. Doing the interview was a real treat. The folks at Patternfish are great to work with. Thanks especially to Gayle, the Patternfish newsletter editor and esteemed Ambassador, for the great intro to the Jackie Erickson-Schweitzer Designer of the Month article in the Patternfish newsletter.
Here is an outline of the questions I answer in my designer interview (just to give you a tease so that you'll be enticed to read the full article, lol):
What is your design process?
What inspires you? What are you passionate about?
Which is your favourite design?
Which is your customers' favourite design?
When did you start knitting and who taught you?
When did you start designing and what was the first design that you created? Which is the first that you sold?
Where have your designs appeared?
Where do you think you and your business will be in 10 years?
How do you feel about the "business" side of being a successful designer?
In what ways do you spend your time that would surprise people?
How did you come to list your patterns with Patternfish?
Of course, I knew about the interview because we had pre-planned that. Then on the day the newsletter was sent out, Gayle totally surprised me by having picked my Technique Teddy Bear pattern as one of her two Editor's Choices for this month. Who can't resist a little teddy? But I think her write-up really brings this little pattern into the limelight.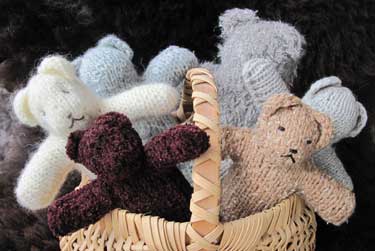 And that is not all! Patternfish also launched a monthly charitable support initiative starting this month where the Designer of the Month picks a favorite charity and to which Patternfish will make a contribution. And I am the first to help kick off this initiative by choosing WomenHeart, the lifeblood organization devoted to improving the quality of life and the healthcare of women living with heart disease.
Patternfish will be donating $1.00 for each Thinking of You Scarf pattern sold during January to WomenHeart and I will match that dollar for dollar.
WomenHeart is devoted to improving the quality of life and healthcare for women living with heart disease. Through their coalition of national organizations and community-based support networks, they offer comprehensive services to women with heart disease and empower all women to take charge of their heart health. Through their advocacy efforts, all women receive early detection, accurate diagnosis and proper treatment of their heart disease.
KNIT RED, the HeartScarves Project, is one of the program initiatives under the WomenHeart organization. I think HeartScarves will be of particular interest to knitters and crocheters. HeartScarves delivers handmade, red scarves to women undergoing cardiac procedures. Symbolizing the lifelines of caring and support that exists among us, each red scarf is meant to offer comfort, support, and encouragement for a woman with heart disease and become a part of her healing journey. Recipients of the scarves feel the love and attention that go into the production of hand-made items.
I first learned about WomenHeart through the KNIT RED HeartScarves program created in 2005 by women heart disease survivors. Having lost my own mother too early in her life to heart disease, I gladly became involved in contributing handknit red scarves, and also accepted their request to design a special scarf to help bring awareness to the initiative. That is how the HeartStrings Thinking of You Scarf pattern came about.