Am I crazy or what? Such tiny needles, tiny beads and skinny thread. But the results are worth it. Something special for ME this holiday season. 🙂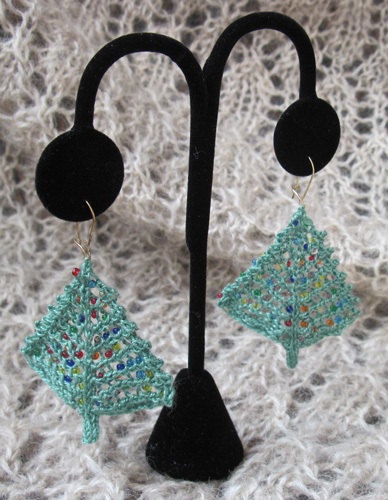 These are Bitty Christmas Tree Earrings, an even tinier version of the HeartStrings #H80 BITTY BEADY CHRISTMAS TREE pattern design I published just a few days ago. The published design specifies fingering weight yarn and size 8/0 beads knitted on US 2 /2.75mm needles to produce a 1/12th scale miniature version of a 5′ traditional Christmas Tree. At this size (approx 5″ high by 4.25″ wide), they're great as ornaments, package decorations and the like.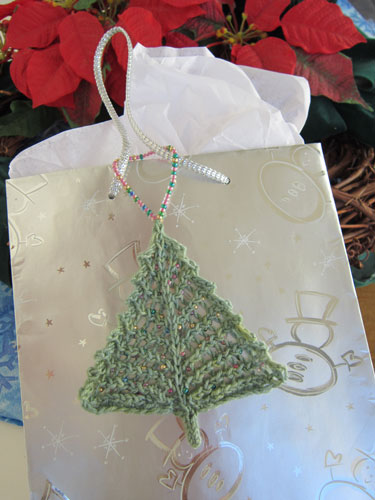 You can make a bunch of these trees in hardly any time — very satisfying to make quick, small gifts!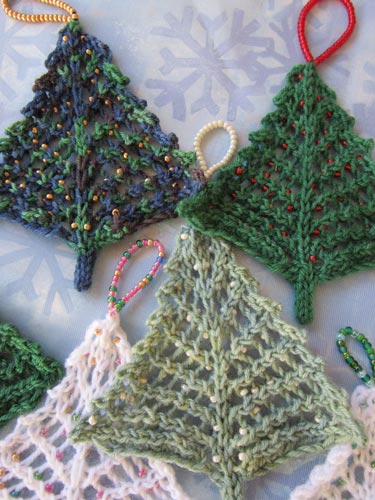 Just for my own personal fun, I wanted to try some on both thicker and thinner yarn/threads, too. I had fun making some larger, using sport weight yarn (on US 3/3.25 mm  needles) and worsted weight (on US 4/3.5 mm needles). While on a roll, I also made a smaller one using size 10 crochet thread (on US 0/2mm needles).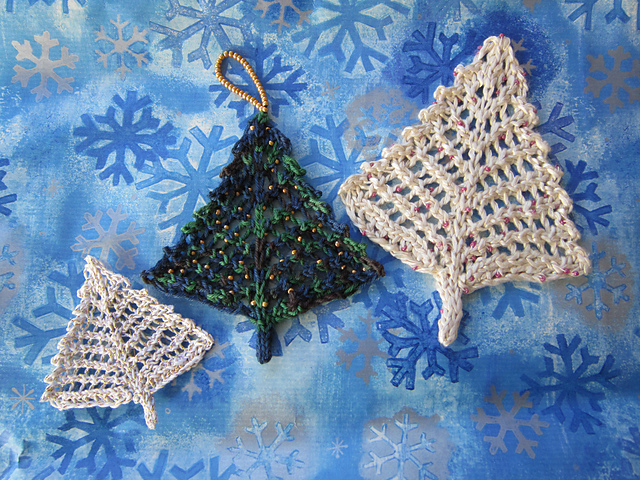 This smaller one (at just 3.25″ high by 3″ wide), I turned into a brooch using a coiless safety pin.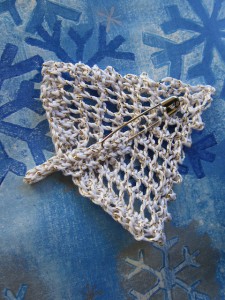 Then the real craziness started. I couldn't help myself but imagine some even smaller trees to wear as earrings. Darn it — my eyesight used to be better. I think this is going to be as small as I'll be going. As it was, I had to wear my jeweler's magnifier while knitting these, just to see what I was doing! After blocking, they are just 2″ high x 2″ wide (excluding earring wires).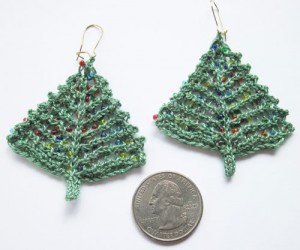 If you want to share my craziness, here is what you will need for a pair of earrings like these:
10 yds (9.1 m) 10/2 Textura Trading Tencel thread in color Seafoam (near substitutes are size 20 crochet cotton or size 8 pearl cotton)
size 4/0 (1.25 mm needles)
148 (approx 1.4 g) multi-color mix of Miyuki size 11/0 (2mm diameter) seed beads (size 10/0 beads should work just fine, too)
2 earring wires
HeartStrings #H80 Bitty Beady Christmas Tree pattern (available  through Ravelry and other places selling HeartStrings patterns)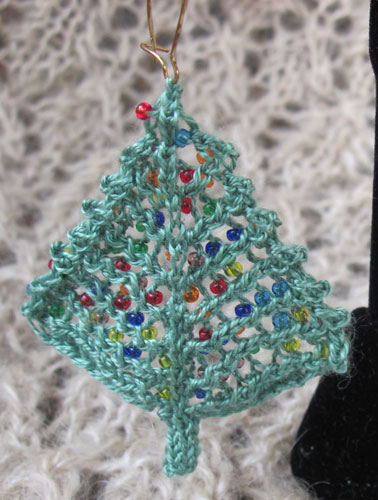 How small can YOU go? I'd love to see the ones you make, too!
p.s. The knitting as background in the photos of the earrings is the original Lacie Blankie made in handspun Cotswold wool for the "Save the Sheep" competition sponsored by Interweave Press.