I am excited to announce that the new Austrian Lace Stirrup Leg Warmers pattern is now available. These dressy over-the-calf stirrup leg warmers (otherwise known around here at the HeartStrings studio as Sock-Not Leggings) omit the bulk of a complete sock since there is no heel or toe.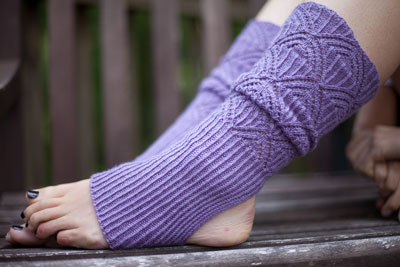 This is a "Classics Revisted" pattern republication of my Sock-Not Leggings from (would you believe this?) over 15 years ago. There is new, beautiful photography of samples knit in Tilli Tomas Artisan Sock yarn. And the instructions have been expanded to include both charts and written instructions.
Classics like this live on. And I hope you enjoy seeing and knitting this pattern, as well as the wearing.
My inspiration was to have a classy sock that could be worn with dress shoes. I think you will love these as a practical fashion alternative for warmth and wearability when you want a pretty cover-up.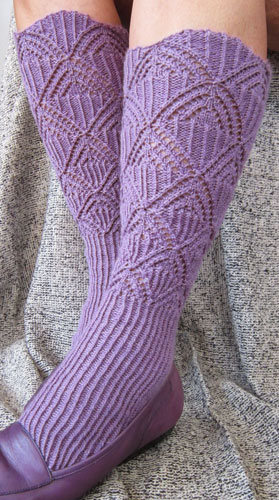 Don't be too intimidated by the seemingly complicated-looking stitch pattern. It actually is quite repetitive and easily 'read' after you've got a few rounds of the pattern underway.
Some other features that you will appreciate are
the way the twisted-ribbing lace patterns decrease in pattern to becomingly conform to the shape of your calf
there is a gusset underneath the foot that allows the stirrup to comfortably hug instep and arch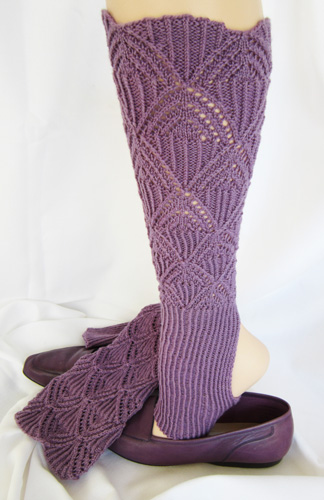 One other benefit that is so cutely, well-worded by Julia Grunau, the Prime Minister of Patternfish (where, by the way, is a great source for this pattern and all the other HeartStirngs pattern): "and should last far longer than a conventional sock. Great for fans of invisible darning … you can invisibly darn the invisible heel and toe!"
Can you imagine invisible darning? Love it! Thanks Julia for that laugh.