Do you remember the song "These Boots Are Made for Walking?" recorded by Nancy Sinatra years ago? That song keeps running through my mind as I admire my new Merrell shoes that I just got this past week. The style is called Moab Ventilator. Cool shoes. They'll be put to good use later this month as I plan to do a lot of walking around San Francisco to see the sights. I also got a pair of the Loreili style, which looks like a cute Mary Jane shoe — I plan to wear those for non-intensive activites and casual dress-up.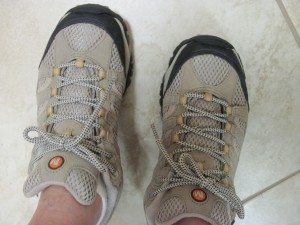 Which reminds me … I need to post a notice on my HeartStrings FiberArts website that we'll be closed for wholesale shipments April 16 – 27. Fortunately, I have several distributors that are available to get pattern orders out to  shops. Also, all the downloadable pattern sites will continue to be available. But if you try to contact me personally, be prepared for a delay, because I'll be walkin' and playin'!
p.s. If you are in the San Francisco area and want to maybe meet up sometime while I am there, let me know. My traveling companion has a full schedule laid out for us (and he isn't a knitter), but maybe we can at least visit a little while. We'll be staying at the Chateau Tivoli.