I am delighted that Colinton Australian Angoras debuted 2 additional kits for HeartStrings patterns at the recent TNNA trade show in Columbus, OH earlier this month.
Because of the success of the launch in January, Colinton has expanded their attractively  packaged "Tucker Box" kits from the initial offering at the January TNNA show that included the White Lotus Shawl. Now there are also kits offered for the just-released A Touch of Beaded Class Stole and the "get a taste of Colinton" small project Coronet Collaret.
These Colinton Tucker Box kits include all materials to complete the project, including Colinton's silky worsted-spun 100% Kid Mohair yarn, top quality Japanese glass beads (for the Stole and Shawl kits), pattern instructions, plus the extra bonus of sample packets of Unicorn Fibre Wash/Rinse. All 3 kits come with choice of natural color yarn only, or with dye packet in any of 7 different jewel tones.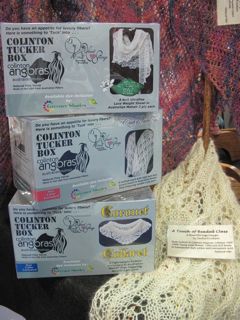 Please contact Colinton Angoras for wholesale orders or check their website for retailers.
More information about the pattern designs is here —
p.s. Wondering what a "tucker box" is? It is an informal Australian term for a bag or box used for carrying food. Maybe we can't eat yarn like regular food, but I think you will find the Colinton yarn to "yummy" on your knitting needles and in the finished project.