The days on the calendar are ticking by faster than ever, and I have lots to do in preparation for the June TNNA Show. That means that I really should be designing and knitting rather than blogging, but it's important to share what's happening here at the HeartStrings studio. So I am starting a blog mini-series around the theme of "New Yarns — New Designs to Come".
The first round of posts will introduce the yarns I will be working with for soon-to-be new designs and sample models. I won't be following any set order of yarn introductions … it mostly will come about in the order that I have photos ready and have gotten around to writing up the post. After the introductory posts, then I will continue with follow-up posts as I progress through the process of designing and knitting each of the yarns … or at least that is my plan. Throughout the series, I hope you enjoy taking a peek into what goes on during the designing day.
So come on in to the studio to see the yarns with me and let's talk about what they might become. I have some design concepts and goals I've already talked over with each of the company owners of these yarns, but of course I'd love to get feedback on your ideas and what you like, too.
First up is Crystal Palaces's new yarn called Sausalito. It is a machine washable 80% Merino wool / 20% nylon fingering weight yarn. Each 50 gram ball is 198 yards / 181 meters. Here it is in the Monet color. I really like the melding of the colors in this 2-ply yarn. Oh, and did I mention that it is luscious feeling — I wish you were actually here to pet it.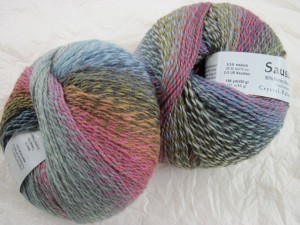 With the 2 balls of yarn, I plan a beaded scarf. So the next on the list to do is to decide on the beads I will use. This picture shows the colors that I have narrowed down to consider.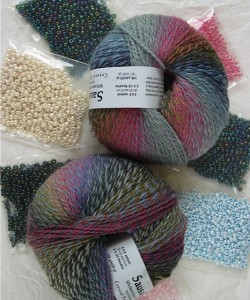 Since the yarn is already variegated in color, I've ruled out using more than one bead color (there is a coming design in another yarn that will use two bead colors, though, so watch for that coming up soon).