Congratulations to Donna Wells, the winner of the random drawing for the Sock Therapy Kit. Donna's name was chosen from all entries made at the HeartStrings FiberArts Facebook page. The winner receives yarn and "chocolate"-colored ribbon to make the socks along with a full-color printed pattern. Just for fun and added therapy, I am throwing in some chocolate mint swizzle sticks. These go well with hot coffee or tea. Yumm.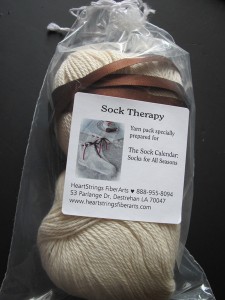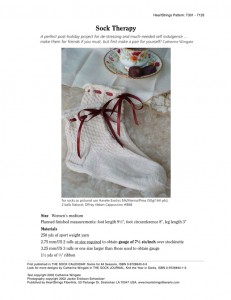 Although this was the last Sock Therapy Kit I had, you can still get the pattern to make the socks in your own choice of yarn and ribbon. Sock Therapy pattern is available for purchase as either an individual pattern, or as part of The Sock Calendar eBook (includes Sock Therapy and 12 other sock patterns).
Thank you to everyone who has posted and shared. It is heart-warming to have such a nice welcome from my friends/fans on Facebook. I am enjoying reading it all even though I may not be able to respond to everything. Watch for more contests and drawings to be announced in the future. Even if you think you never win anything, I want to give you more chances!