Christmas in July! Goodness knows, with all this summer's heat, day-dreaming about snow while knitting projects for winter holidays is a bit of a welcome reprieve.
Every year at Christmas time, I say that the next year I am going to start doing my gift projects earlier. So this year I am finally doing better because there are 2000+ Bits of Lace knitting members who are keeping me at my word for this month's project at KnitHeartStrings.com. The project is the Satin and Lace Ornament and the pattern is free when you are subscribed to the HeartStrings newsletter and you register for free content at the member website).
So if you are looking for an idea to celebrate Christmas in July, com' on and join us.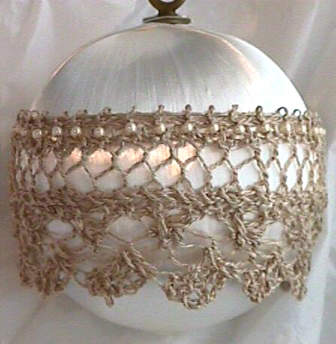 Yes, I know that you usually see me doing lace and beads. But I do like all forms of knitting. I finally got around to writing the pattern for No Two Alike Snowflakes. I had designed the original hat and mittens set in a 4-year old child size as a guild project for the Christmas tree in the Blue Room of the White House (1998).
Ever since then, I have had requests to publish the pattern for these. And (finally) I have done that and the pattern is available. If you have been waiting, thank you for your patience!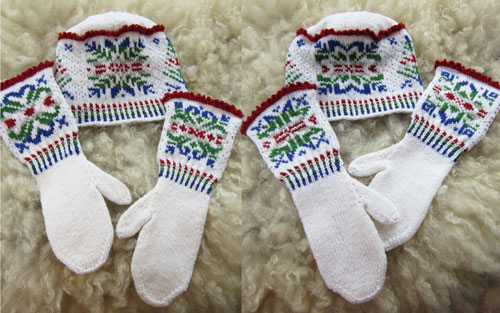 The set features Fair Isle stranded knitting in 4 colors against a snowy solid white background. Just as real snowflakes are each different and unique, each snowflake in this set is a different design motif (and thus the name I decided on for this pattern)!
The published pattern expands the sizing to Child S thru Adult XL. I also changed the thumb on the mittens to a gusset style vs. the Latvian style of the original, as I felt a gusset is more comfortable for adult sizes (and works equally well for child sizes).  The knitting is done in-the-round with no seams to sew.
Picot trim is a fancy bind off technique used for both the tip-to-cuff mittens and the bottom-up hat. I hope you enjoy  the "secret" used to make the red picot trim at the upper edge of the hat band, even though the crown continues from there in a seamless construction.
The pictured sample models for the published pattern were knit in size adult medium using KnitPicks Wool of the Andes. The pattern is available in downloadable pdf format from HeartStrings pattern sites such as Ravelry, Shopatron, Patternfish, etc.. It is also now also available thru the KnitPicks Independent Designers listing at their website). Printed patterns will be available in shops this coming Fall.
Are you doing anything for Christmas in July? Doesn't matter whether it is knitting or not, I'd love to hear about it.