Mountain Colors is having a 20th Anniversary Celebration and the Kit to make my Loganberry Shawl is the GRAND PRIZE at the end of the month. How exciting and YOU could win it! There are giveaways throughout the month as well. So don't wait to enter now …
I designed the Loganberry Crescent Shawl especially for Mountain Colors 20th Anniversary in their Retro color Loganberry. Inspired by the luscious colors in this yarn, I feature a cabled lace stitch pattern that suggests the slightly oblong shape and seeds of the loganberry. The short-rowed body of the shawl is an easy, very lacy one-row stitch pattern that works up in a jiffy.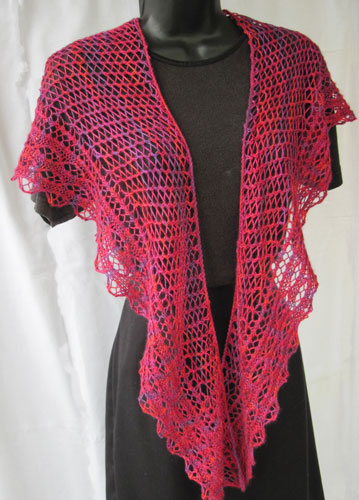 Even more exciting is that the shawl shown here (and the kit that you could win to make it!) is made in the brand new Mountain Colors cashmere/silk yarn called Louisa.
I wish everyone good luck in winning. But you won't have a chance unless you join in the Mountain Colors 20th Anniversary Celebration now.
Even  if you don't win, you can't lose with the fabulous yarns and dyed colors that Diana and Leslie produce for Mountain Colors. I hope you check out their yarns at your favorite local yarn shop or online source. And of course, be sure to ask for HeartStrings patterns such as the Loganberry Shawl there, too.