Jackie and the Beanstalk Seed Packets. Read on for an offer, good April 15 – 30, 2012 or while seeds last.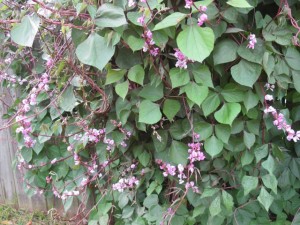 I love the freshness of Springtime and the opportunities to play in my garden before the heat of summer sets in. This is a time to mulch old friends (meaning my plants, lol), fertilize the lawn and plant new seeds. Almost every year I try a new thing or two.
And so I'd like to offer you a packet of my special Jackie and the Beanstalk magic seeds. Actually, they are purple hyacinth bean. But I didn't know their name during the time I first grew the largest, most beautiful flowering vines from just a few seeds. Since I did not know what I was growing when I planted the seeds (other than I recalled it was some kind of flowering vine), I did not have any special care instructions to go by. I just used common sense to keep plants happy, lol. But now that I know the name, I've found references in many places. There is a good one at The Gardener's Network.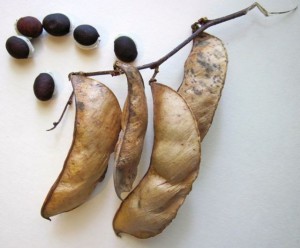 To receive a free packet of real seed pods with your order of any Kits or Yarn products in the HeartStrings catalogs at Shopatron, just enter the words "Jackie and the Beanstalk Seeds" in the comments field of your Shopatron order. One gift packet per customer. Offer is good April 15 – 30, 2012 or while seeds last.
Capture the magic. Happy spring planting! Happy all-year-long knitting!