In the past couple of years I've occasionally posted something about spinning or other topics related to turning fibers into thread or yarn. I really want to focus on this more, so I got it in my head to set aside Tuesday's to share some kind of spinning article or other fiber-related fun.
Want to come along and play with me? To give you an idea of what I have in mind, here's a brief review of  a sampling of past articles like those I have in mind.
With articles like Moody Blues, handspun pima cotton plied with silk, I plan to continue to explore the creative structure of plied handspun yarn along with a dose of serendipity.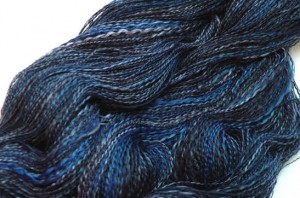 Spinning a 2-ply laceweight yarn for a scarf unfolds a story about turning fiber into yarn, and then into a knitted lace scarf.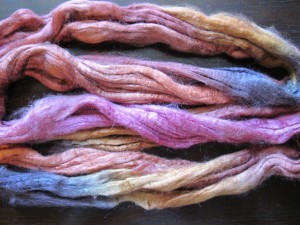 We might play with a bit a dyeing, too, like in Cotton Roving – braiding, dyeing, spinning and knitting and follow the process through "what will it become".
Exploring sources of fiber and making custom fiber preparations is part of what makes the hands-on experience so satisfying, and I plan to share it with you in articles such as Spinning Jacob Wool – one fleece, many colors.
I also hope to bring in guest experts to help, or help lead you to them such as when Deb Robson explains scouring fleece.
Another aspect of spinning and fiber-play is the "toys of our trade". I have plenty of stories to share there. I can even help give you justification for your obsession such as this article on Deco-organizing a spindle collection.
I hope you'll join me over the next several weeks. Tell your friends. The more the merrier. And that will encourage me to do even more. If you are interested in something particular, do leave comments and I will put it on the agenda. Spinn-i-o!