Looking for a fun and quick fixin' treat for Halloween? Join me in making pizza with yummy edible jack-o-lantern details.
Have you always dreamed of carving the 'perfect' pumpkin? As a kid, I found that harder to do than I thought it would be. Before I even had a chance to approach being an 'expert', I moved to Cajun country in the deep south. Believe me, carved pumpkins don't last long around here in the heat that persists well past Halloween! They wither up quickly and get pretty gross (rotted pumpkin smell is yuck!)
So I've come up with some other ways to practice my talents in making jack-o-lanterns. Join me in making a Jackie-O-Lantern Tortilla Pizza Pie.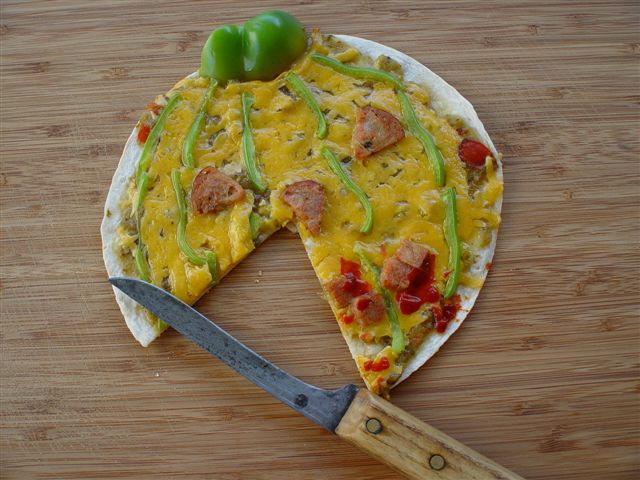 INGREDIENTS
Plate-sized flour tortilla (i.e. soft taco wrap)
Salsa
Cheddar cheese
Fresh Jalapeno or sweet green pepper (your choice, depending on your taste preferences and availability)
Cajun smoked sausage (andouille) or other meat topping that can be 'carved' for the facial features (e.g. pepperoni or slice salami)
Optional: Red hot sauce
INSTRUCTIONS
Get all the ingredients and cooking tools gathered together and then you are ready to get started on assembly.
Assembly
STEP 1 – Put flour tortilla in pan.
Note that I am planning to use a stove-top non-stick sauté pan for 'baking' the pizza.
STEP 2 – Spread some salsa on the tortilla.
I prefer green salsa, but red salsa is good, too. My taste buds have gotten used to hot and spicy here in Cajun country, so the hotter the better.
STEP 3 – Grate cheese and sprinkle amount desired over salsa.
I prefer extra-sharp cheddar, but ya' know, any cheese is good. I haven't ever met a real cheese that I didn't like. I don't recommend those imitation processed cheeses though.
STEP 4 – Clean and slice pepper in thin strips, reserving top of one half as the 'stem' of the pumpkin. Place strips and stem as shown in picture to mimic a pumpkin.
Did you see those sweet green peppers in the picture? Those are from my own plants, still producing peppers in bunches like grapes even now this late in the season!
STEP 5 – Slice sausage and 'carve' triangle and small rectangle pieces for eyes, nose and teeth. Place similarly to that shown in picture as a guide, or just be creative with your own facial features and expressions!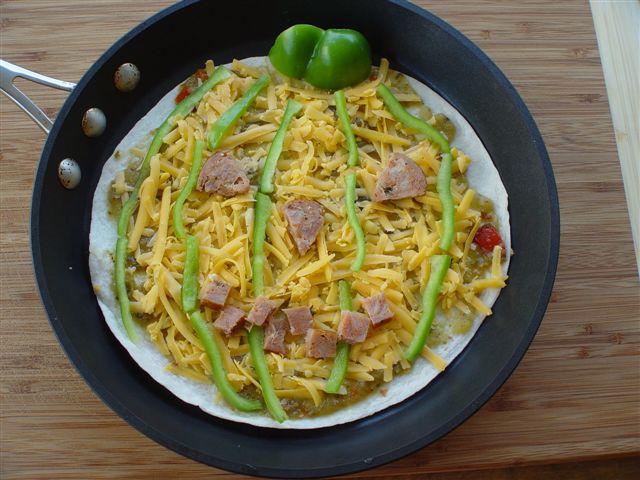 Baking
Cook on stove over medium heat for 7 – 8 minutes, or until cheese is melted well and bottom of tortilla is crispy.
Did I mention it stays hot where I live well past Halloween? Well, no use heating up the house by turning on the oven, and stove-top will work just fine.
Here is the 'baked' pizza. Isn't it cute?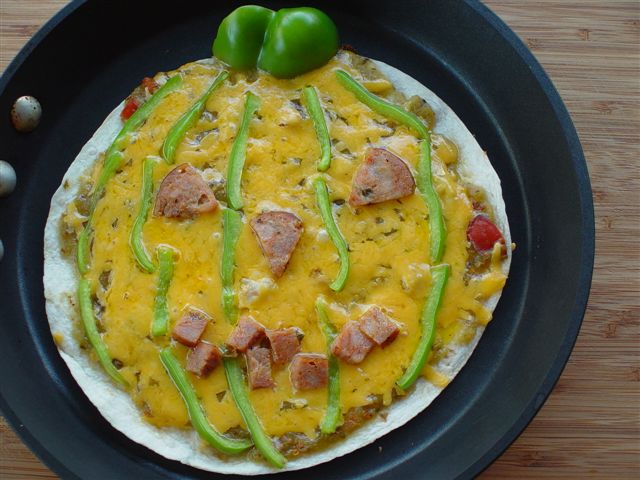 Serving
To amuse the kids (or even grown-ups!), shake some red hot sauce 'blood' over the mouth. (or substitute catsup if you don't like it as spicy as we do here in Cajun country)
Slice in wedges and eat it up 'til gone. 🙂 Let me know how you like it.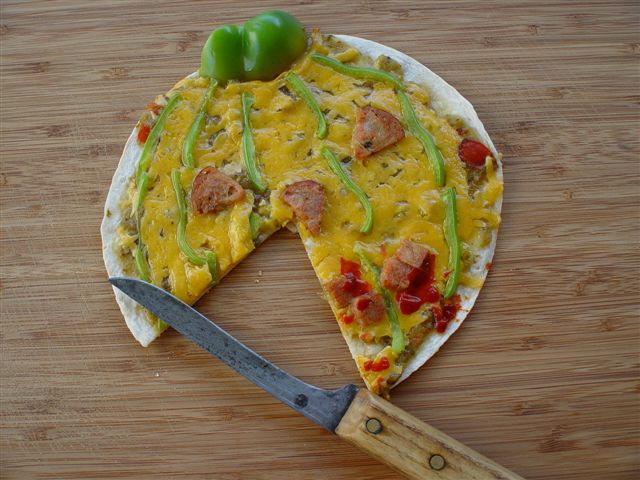 Have fun and bon appetit!