In today's showcase of  "Friends of HeartStrings Gallery", I am pleased to introduce Vicki Elster and some of the adapted versions of designs she has created based on the HeartStrings #A135 Filigree Lace Ensembles pattern.
Last week, Vicki emailed several photos along with the introductory message of  "Just thought you'd like to see how some of your patterns are enjoyed. I love your filigree lace patterns." Of course, I thanked her for sending the photos and the kind compliments. I so much enjoy seeing what others are knitting with HeartStrings patterns! With her permission I am excited to share glimpses of her creations here for all my Jackie E-S Blog readers.
Vicki went on to say, " I wanted to send you pictures of what I've made with your patterns. I tweaked the wrist warmers for myself (lime green), below, and also made the neck warmer go further out on my shoulders to fit under a boat neck sweater like a dickey."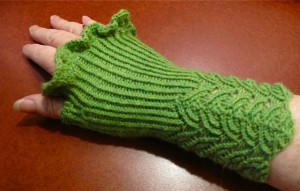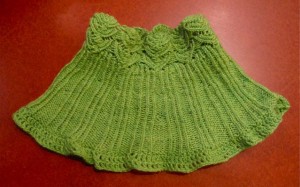 "And I've now completed two other sets of the wrist warmers for gifts. They came out lovely. One friend wanted hers similar to mine, but without the ruffle. Thanks for a great pattern."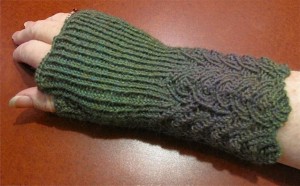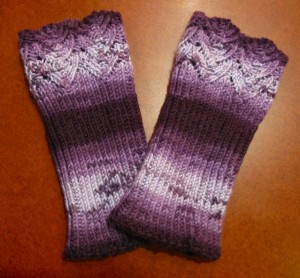 In 'talking' further to Vicki, I found out we had even more in common … "I first knew you from the KnitDesign yahoo group (I am dipping my toe into making up patterns and selling them, but just starting!) and then a friend bought this filigree pattern and I fell in love with it. I bought it, and have been enchanted by the wrist warmers. Made several for friends. Your patterns are very easy to do, and your writing of them is great! Several friends have been inspired and I've told them where to buy your pattern.I would be honored if you use me/my project photos. I'll tell you what yarns I've used: the lime green is Shepherd's Wool fingering from Stonehedge Fiber Mill. The darker green variegated is Melody from JoJoLand Yarns. The purple variegated is Serenity Garden Yarn, a Deborah Norville collection by Premier Yarns.Thanks, Vicki Elster"
Enjoy the no-calorie eye candy, thanks to Vicki. What could be better to offset the splurging I have done (and maybe you, too?) for the holidays. Interestingly, Vicki's iPhone signature includes this cute saying: "If knitting were exercise, I would be sooo fit!." Hee – hee. Tell me about it, lol.
p.s. Do you have photos and a story about HeartStrings patterns you've knitted? Email me and maybe you can be featured in the next "Friends of HeartStrings Gallery".