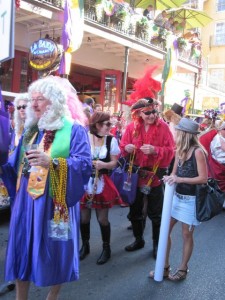 Happy Mardi Gras to everyone. Today (Fat Tuesday) is the finale to the giant annual party in New Orleans. Having lived in New Orleans for 40 years, I no longer try to make every event. But this year I did enjoy more days (and nights) than I had in many years. The good weather (other than last Saturday and somewhat today) probably contributed to my enthusiasm for parade-going, people-watching, and generally being in a festive spirit. I did take some photos and videos now and then, and will sort through those later for some possible gems to blog about in the future . But mostly I just partied and enjoyed the moment.
It's going to be tough to get back to "real work" tomorrow. But today it is a real pleasure to announce the winner of the Mardi Gras Viewer's Choice Contest over at the HeartStrings FiberArts Facebook fan page. Congratulations to contest winner Dena Rauch with her "Chinese New Year Bunnies go to Mardi Gras". Dena wrote, "I have wanted to knit up Knitted Bunny for a very long time and this was the perfect excuse". The fun creativity that Dena showed in matching the theme of the Chinese Year of the Rabbit together with the traditional purple, green and gold colors of Mardi Gras was obviously admired and had a wide lead in the number of "like" votes cast. Aren't they just too cute?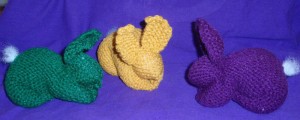 Thanks to everyone else, too, who participated, whether by entering and/or voting, and commenting. I hope everyone had fun. Let me know what else you'd like to do for future fun events.
p.s. The pattern for Knitted Bunny is available free at the HeartStrings FiberArts website (with donation optional).
p.p.s. If you are just now dropping in and had not yet found the HeartStrings FiberArts Facebook fan page, hop on over there now and "like" to stay in touch. We'd love to have you join us.