We're not only in Lent season, but today is also Meatless Monday. So I wanted to tell you about another tasty vegetable dish I concocted. I call it Brussels Sprouts with Indian Seasonings.
I actually made this dish a little while back, but just had not gotten around to pulling the photos and a blog article together to show you. That means you might have to use frozen instead of fresh Brussels sprouts due to seasonal availability, but I think that should work out similarly. Before beginning the cooking, I slice the Brussels sprouts in half so that the flavorings can more easily permeate them during the later stir-frying. I also thinly slice a medium-sized onion and set that aside.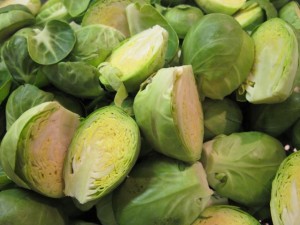 I can't claim much creativity in concocting this dish, as it basically is Madhur Jaffrey's "Stir-Fried Green Cabbage with Fennel Seeds" from page 94 of the book Quick & Easy Indian Cooking. After all, Brussels sprout is in the same family as cabbage. I actually liked this recipe used with the Brussels sprouts better than shredded cabbage, maybe because there is more 'body' to the Brussels sprouts.
I always love the balance of seasonings in Jaffrey's recipes, so I used the proportions in her recipe for the flavoring ingredients: fennel seeds, cumin seeds, sesame seeds, salt, cayenne pepper, lemon juice and garam marsala.
After heating up a couple of tablespoons of peanut oil in a wok, I sizzled the spices briefly to release their aromas. I just love this part. I like to have all the seasonings measured beforehand, as this part of the assembly process goes very fast. Then add the thinly sliced onion and stir-fry a couple of minutes until the "just browning stage". Then toss in the Brussels sprouts and stir-fry to the degree of doneness you prefer.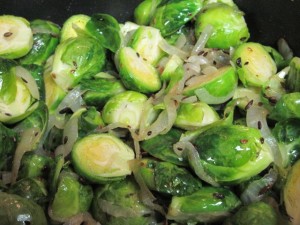 Total cooking time goes quickly — about 10 to 12 minutes total, including time for sizzling the spices and browning the onions. You might like to cook the Brussels Sprouts longer, but I personally find they taste better when not overcooked and mushy. If you start with previously frozen Brussels sprouts, the cooking time might be even less.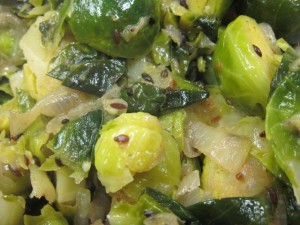 Yumm. For other savory meatless dishes, check out my February 6th article Meatless Doesn't Have To Be Tasteless.
p.s. A shout-out to my fellow bloggers in this month's challenge.