Last October I got a phone call from Anna Carner of Unicorn Fibre who was sponsoring a forthcoming Knitting Daily TV segment. She asked if she could use my model of White Lotus Lace Stole in the taping of the show as an example of a finished piece that had used Unicorn Fibre products. I said, of course, because I do feel that Unicorn's Fibre natural fiber cleaning products are five star in the care of our precious knits.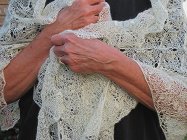 Deb Robson is the presenter in Knitting Daily TV Episode 603's How-to Segment. She is joined by Eunny Jang who asks the questions that you likely would have yourself asked.
This segment focuses on the the process for producing yarn before you even knit a stitch. Deb explains step-by-step the process from fleece to spun yarn, along with examples of raw fleece, cleaned fleece, etc. And at the finale, my White Lotus Stole is pointed out (it's been on the right side of the table all along), as an example of how raw fleece has been transformed into a beautiful finished piece.
The Knitting Daily TV Episode 603's How-to Segment is available for viewing on YouTube. Knitting Daily TV also airs on PBS stations nationwide and new markets are being added to the schedule all the time. However, each individual public television station chooses when and if to air the program, so you'll need to check your local schedule to see if/when this episode might be available in your area.
I also wanted to mention that Deb Robson is working on a new book The Fleece & Fiber Sourcebook. Can't wait!