Planning an event with HeartStrings patterns? Let me help you talk it up on my social media networks, fan groups, and newsletter.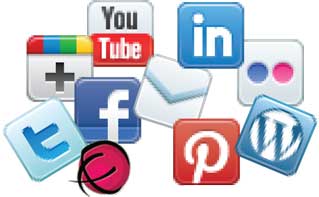 As mentioned in my post a couple of weeks ago You Talk, I Listen, much of my Designing Day is filled with activities that are not strictly knitting design. A growing focus of mine has been to offer "hang outs" for fans of HeartStrings on some of the popular social media sites.
I'm still learning how to most  effectively use these sites and their tools, but one thing is clear … I am happy to help any of you, my cherished HeartStrings dealers and fans, to promote your event or special announcements. It's something that will be beneficial to us both, and takes hardly any effort, and won't cost you a thing.
Let me know, and I'll get the word out via my newsletter (nearly 10,000 active subscribers with an open and click rate that is phenomenally high), Facebook network (1700+ fans and growing), via Twitter, etc. You can also post your own HeartStrings-related announcements on the HeartStrings FiberArts Facebook page and in the Jackie E-S / HeartStrings Fan Group on Ravelry, too.
Why not take benefit of this now? Are you ready to get the buzz going? Looking forward to hearing from you and what you have planned.
Jackie Erickson-Schweitzer
HeartStrings FiberArts
Knitting Patterns for Wearable Art in Timeless Styles
 Like and join the conversion on Facebook

 Follow me on Twitter

 Subscribe to my blog via RSS

 Watch HeartStrings on YouTube

 See eye candy photos on Flickr

 Ask questions and share your creations on Ravelry

Follow me on LinkinIn 

 Stay in touch with my HeartStrings newsletter