Whatcha cookin' for Sunday brunch? With the change for daylight savings time, I am already an hour behind on my usual get-into-the-day schedule. So today I'm serving up something really easy for you.
I call it Egg in a Hole Grits Style. It's just a take-off on the simple Egg-in-the-hole recipe that substitutes a ring of grits for the usual slice of toast with a cut-out circle in the center.
I do LOVE home-cooked grits. The kind that takes 20 minutes to cook; i.e. not that mushy instant variety. Take some of your cooked grits and spoon  into a hot buttered small frying pan in the shape of a ring. I think it's best to use a shallow frying pan so that it's easy to slide the finished concoction a plate.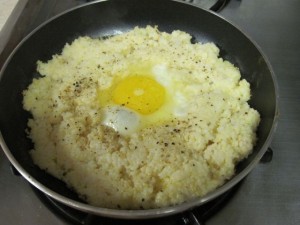 Let the grits "fry" until becoming a bit browned and bubbly on the underside. Then crack an egg into hole and cook until of desired doneness. Personally, I like a runny yolk because I can mix in some of that yummy goodness with the grits later when I am eating. Slide the finished concoction onto a serving plate while preserving the look and shape (unless you just want to serve it in the pan!).
Which reminds me of one of my favorite movies My Cousin Vinny.  I swear that my friend John knows every line of that movie. The one we like most to cite is where Vinny challenges the testimony of the self-respecting Southerner witness who would never cook instant grits by asking him: "how could it take you 5 minutes to cook your grits when it takes the entire grit eating world 20 minutes?" 🙂