One of the most popular little patterns I offer is the origami Knitted Bunny (a.k.a. Bunny from a Square or Bunny from a Swatch). Of course, part of its popularity might be that it is available for personal use at no cost to you (although a donation is appreciated if you are able and feel inclined). But I think that more so (even if I were charging for the pattern), it would be popular because this folded origami style makes up into such dang cute bunnies!
I've made SO many little bunnies from this pattern and have enjoyed every one of them. Most are given away, but here is one I still have on hand to keep me company this Easter. I call him my No Calorie Chocolate Bunny.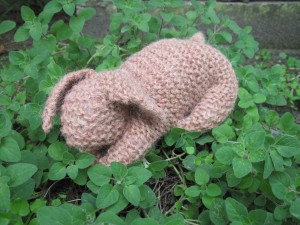 This is a sample I  made in a class I taught at an alpaca farm in Mississippi. Appropriately, the yarn is alpaca. I love the chocolaty color. This version of Knitted Bunny is done entirely in garter stitch, so is even better suited to the absolute beginning knitter level.
You'll notice that one ear flops forward and one flops backwards. I love the personality of this little bunny — those ears give him a jaunty, carefree look. I think he is enjoying nibbling in my herb garden!
The tail is a little felted ball of yarn with the ends securely sewn into the body. So this little guy can also be considered a 'kid safe' version.
I'll be back again in a day or two with instructions and photos for other Knitted Bunny ear and tail variations contributed by one of the many Friends of HeartStrings who are so kind in sharing what they are knitting with HeartStrings patterns. Can't wait to show you — so cute.