Today is Friendship Day, a day to honor friends. You might remember my friend Joy when I posted about the fab Beaded Winter Wonderland Socks she knit. I dedicate today's blog post to Joy and share with you the Troika Wrap-around Faroese Shawl she recently completed.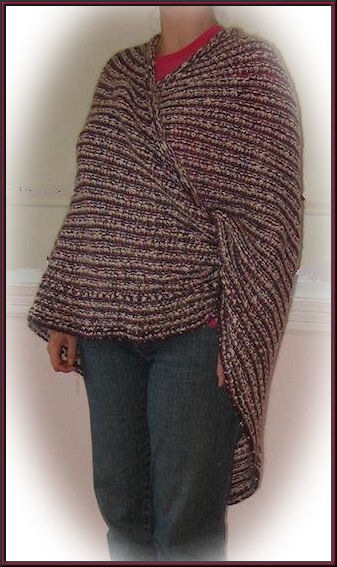 Here is her story:
I've wanted to knit the Troika shawl for a long time, and I had the right amount of yarn for one colour (a deep purple in Paton's Classic Merino) leftover from another project, so I kept trying to match it, on a budget.  I was really happy when I did, and was so excited to cast on and start it.

The yarns I used ended up blending their colours in a very striking way.  I had tried to pick matching colours but never expected the result I appear to have gotten.  The variegated yarn has a high percentage of mohair, and the ivory coloured one is a balpul (hope I spelt that right) so I think that helped them mix better.

I've had strangers and people who usually are oblivious to clothing compliment me on it so it does seem to be something special to look at.  And I adore wearing it!  Its so cosy!

I'd just gotten past the section with the several increase rows when a fond friend had a misadventure and I had a terrible time.  I can't describe the misery I went through.  Really believe your Troika shawl kept me sane.  I spent days just knitting it, those long garter stitch rows were precisely what I needed just then.  I cast it off a little before I got the news that things were sorted out.  So in a lot of ways this is a very special shawl.  And it is very warm and still very light, … and so easy to wear!  Always thought being able to tie it would be a fabulous feature, and its even better then I'd imagined it would be.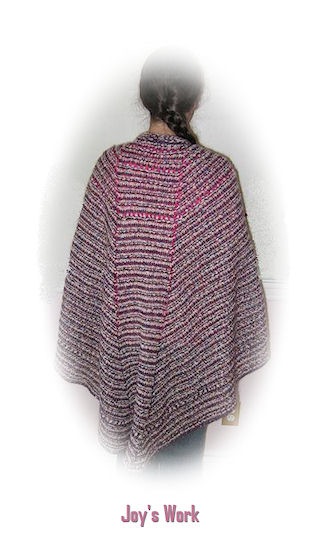 Joy, thank you so much for sharing your special shawl and it's story. I can almost feel its comfiness in the photos. I think it is neat to blend yarns, and I am always intrigued with what people come up with. I agree that the colors come together very well in this.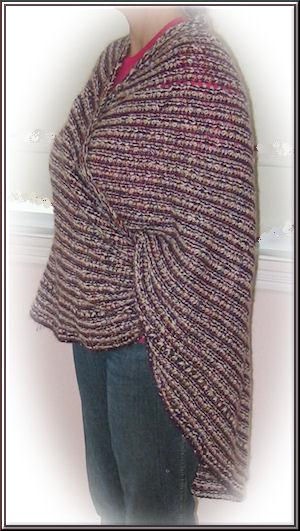 Photo credits: Joy's Mother.
More information about the HeartStrings Troika Wrap-Around Shawl pattern and other Faroese Shawl Patterns.
I am SO appreciative of all you, my friends. Thank you for following me, sharing and supporting.
Today I hope you can spend time with your friends, too, whether near or far, and express love for them in ways whether small or large.
p.s. Friendship Day celebrations take place on the first Sunday of August every year. The tradition of dedicating a day in honor of friends began in US in 1935 and has since spread to many other countries. Are you celebrating where you live?