Let's celebrate the upcoming start of Spring with a multi-prize drawing! Think spring cleaning as a spa treatment for your yarns and fibers, and the pleasure you will have when using Unicorn Fibre care products.
I have been meaning to tell you what a joy it has become to prepare yarn skeins for my kits since I was introduced to Unicorn a few of years ago. Not only am I providing my customers luscious-feeling yarn (and we all know how touchy-feely we knitters/crocheters can be), I love the way my hands smell from the fibre wash and rinse. Normally I would not like working with a scented product, but the light scent of Unicorn is subtle and smells refreshingly natural and clean.
And, oh boy, are the results fantastic. It's like a spa treatment to enhance the softness and luster of your finest fibers and garments. I was so satisfied that I agreed to speak on behalf of Unicorn Fibre care products in an ad a couple of years ago (and as testimonial to using these products myself, my White Lotus Lace Shawl in Colinton Angoras yarn which received exactly the spa treatment I am describing here for softness and luster is pictured in the backdrop).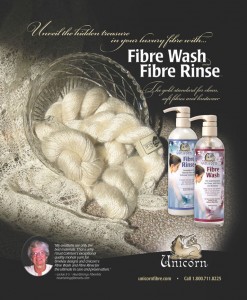 With the gracious and generous donation of Anna Carner of Unicorn Fibre care products, I am able to offer 3 prizes in this month's contest drawing. Thanks Anna!
Just leave a comment here on the blog and/or on the HeartStrings FiberArts Facebook page about why you want to win. The more inventive or humorous your comment is, the more likely you will get 'votes/likes' from others. Read on to see how that will enhance your chances to win the grand prize. Here are some other tips:
Comment both on the blog here and the Facebook page, and you have a better chance to win.
The earlier the better, as there will be multiple drawings throughout the month for which you can be counted.
Share your comment with your friends and get "likes" for your comment. Each share and like will add to your contest entries for the grand prize at the end of the month.
Here's the calendar and the prizes:
On March 15, 2012, a lucky winner will be randomly drawn from all comment entries so far and receive a Unicorn Fibre Wash & Rinse Gift Sampler Set.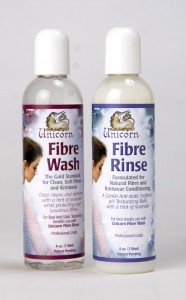 On March 20, 2012 (which happens to be Vernal Equinox, the start of Spring), another lucky winner will be randomly drawn from all comment entries since the beginning of the contest and receive a Unicorn Fibre Wash & Rinse Gift Sampler Set.
And the Grand Prize will be awarded on March 31, 2012. The prize is the Unicorn Deluxe Fibre Wash & Rinse 16oz. Gift Set valued at $31. The winner will be the one with the highest tally of entries (taking into consideration that a like and share of a comment either here on the blog or on the HeartStrings Facebook page also counts as an entry). In the event of a tie, the winner will be chosen randomly from the top entries.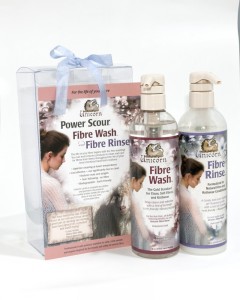 I'd love for you to win one of these. Be sure you have "liked" HeartStrings FiberArts on Facebook and that your email address was correctly entered when commenting here on the blog so I can contact you when you win and let Anna know to send out your prize right away!