Fans all over the world can conveniently purchase my HeartStrings downloadable patterns from Ravelry using Paypal. Convenient currency conversion allows you to see the price in your own currency before buying.
Since I am a U.S. business, my patterns are priced on Ravelry in US$'s. Even if you are not familiar with conversion rates into your own currency, Ravelry's Super-Star-Programmer Casey has made this easy for all of us!
Did you know that if you have your country location in your Ravelry profile, it will show you the price conversion in your currency? For example, if you are in UK and look at a pattern priced in US$'s, you can see the conversion into pounds right below it. There's no extra work on your part when paying either, because PayPal takes care of all that automatically for you.
Here is a visual example of the way that Ravelry shows the currency conversion on a pattern page. I highlighted the area that shows the price conversion into pounds so it will be easier for you to see and know where to look. Of course, if you are in another country other than the UK., then the conversion shown would be in your currency for your country. (But remember, you have to have the Country set in your Ravelry profile so that you get the conversion.)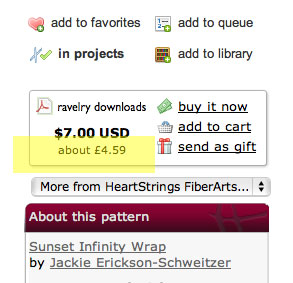 Check your Ravelry profile now and update if necessary so that you can take advantage of this neat Ravelry feature. Then try it out on some of my HeartStrings/Jackie E-S patterns in the Ravelry store.