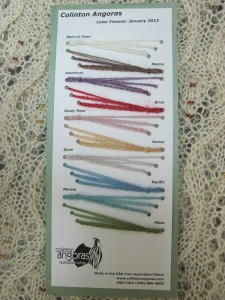 One of the delights of the nature of my business is that relationships so often  turn into friendships. Brandyn is the owner of Colinton Angoras, for whom I've done some patterns as yarn support. We had a chance to talk on the phone last week before she returned to her home in Australia. (I do not envy her that long trip, although it is still a place I hope to have the opportunity to visit sometime.)
On the phone call she mentioned the new Color Finesse line she introduced at the TNNA show in Phoenix last month. I was not able to attend that show, but I do plan to be at the TNNA show next June in Columbus. Anyway, I wanted to show you this neat yarn sample card she designed to introduce the dyed colors of Colinton's distinctive, silky smooth mohair yarns. (before this, Colinton only offered the natural white color, sometimes with kits to dye your own).
I can see why this new Color Finesse line was such a hit. Not only is this an exciting expansion into the world of color for Colinton (up until now they basically targeted the dye base market), the  sample card in itself is like a little work of are in itself. What an artistic, impactful arrangement in a limited space that clearly displays each color in each of the 3 yarn weights custom-milled by Colinton.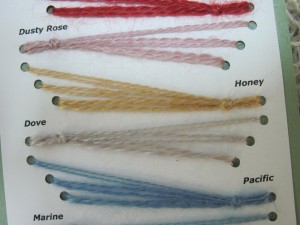 Most times I don't think people realize just how costly and labor intensive it can be to prepare yarn sample cards (even the simple ones), and this sample card clearly takes some talent and love to assemble so neatly. Clever design. It's a keeper in my book. Who knows, Brandyn might be starting a trend with other yarn companies picking up this idea to "paint" a sample card with their yarn line.
What other clever, artistically creative sample cards have you seen recently?
p.s. The knitting in the background of the sample card photo is A Touch of Beaded Class that I made in Colinton's fingering weight yarn.