Here's a simple and quick summer meal. You'll need:
fresh tomatoes
seasoning mix
fresh basil
cheese
prosciutto
oven tray
aluminum foil
broiler
For the tomatoes and basil, I enjoyed the bounty from my garden. Or shop your local fresh market.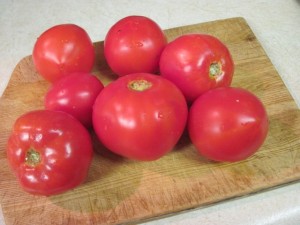 Wash the tomatoes, remove stem area and cut in half. Wash some fresh basil, pat dry, remove leaves from stem and chop them coarsely.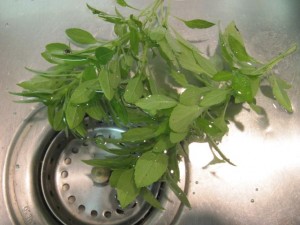 Place tomato halves in a single layer on an oven broiler or cookie tray (lined with aluminum foil for easy clean-up). Lightly season as desired (I used Zatarain's Creole Seasoning). Sprinkle with chopped basil leaves.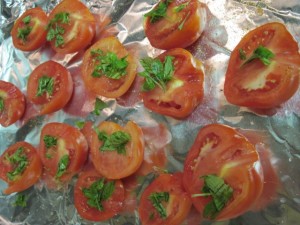 Slice some prosciutto very thinly and chop it into small pieces.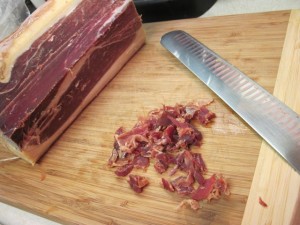 Place a piece of cheese on top of each tomato. (I used Emmentaler swiss cheese.) Then a bit of the chopped prosciutto on top of the cheese.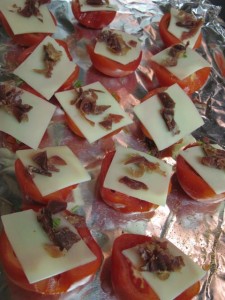 Place tray under heated broiler. Grill until cheese starts to turn golden and prosciutto crisps. This should go relatively quickly so that the topping is cooked, yet leaving the tomatoes still rather firm rather than mushy.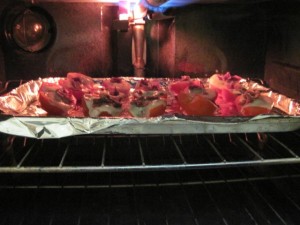 It's smelling good, looks good …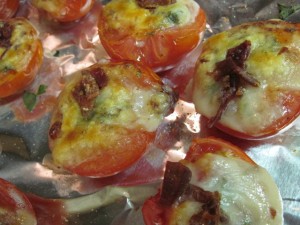 … and tastes good, too. I guess you'll just have to either trust me on that last part, or try this out for yourself. Enjoy!