Although this week's Meatless Monday recipe is one to which I usually add a bit of meat flavoring, I do give substitution for totally meatless. So I hope you will enjoy it either way.
Brussels Sprouts have always reminded me of little cabbages. One of the dishes my Grandma Erickson made that I loved so much was sweet and sour cabbage. I've never felt like I approached how well she made that dish (but then, I guess things always taste better when someone else cooks, lol). I even asked her many times if there was a secret, but she said no and just sloughed it off that I was making mine just as well. I do miss her (and that delicious sweet and sour cabbage she would make).
Anyway, my local Sam's had gotten in some fantastic-looking fresh Brussels Sprouts recently. My taste buds turned to concocting a sweet and sour rendition using them. And thinking about the healthy benefits of Brussels sprouts, I am feeling good that something so tasty is good for us, too.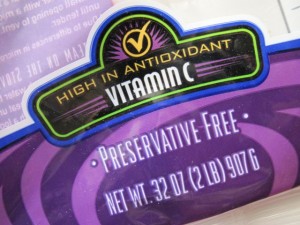 Here's what I did for an (almost) Meatless Monday dish (but you could substitute some vegetable oil and a bit of smoke flavor in place of the prosciutto ham or bacon for totally meatless)  …
Ingredients
2 pounds fresh Brussels sprouts, washed and sliced in half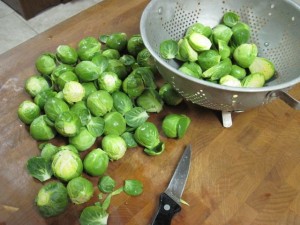 3/4 cup water
2 tablespoons rendered out rind from prosciutto ham, bacon or similar
salt to taste
black pepper to taste
1 tablespoon dried onion
lemon juice + apple cider vinegar to make 1/3 cup
rounded tablespoon of sugar
rounded tablespoon of whole caraway seeds
Instructions
Use large saucepan/top-of-stove Dutch-oven style pot with tight-fighting lid.
Add water and salt to pot and bring water to boil.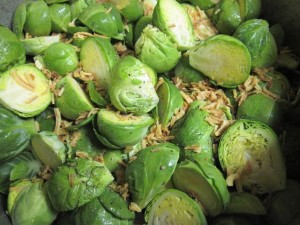 Add Brussels sprouts, black pepper and dried onions. Stir then cover.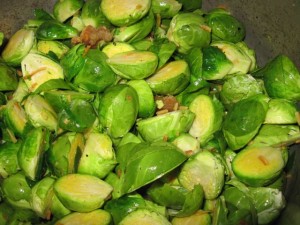 Cook about 10 minutes over medium heat or until just barely to degree of desired doneness. (do not overcook into a mush!)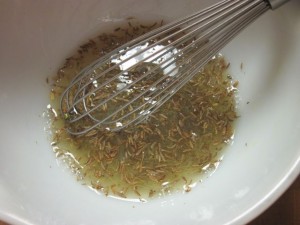 In a bowl, mix together the lemon juice/apple cider vinegar, sugar and caraway seeds until sugar is dissolved. Pour into the pot.
Cover pot and let simmer about 5 minutes to let the flavors meld.
Eat up!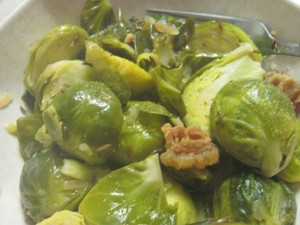 Well, not the whole pot all at one time. This recipe does make a lot, so you are likely to have more than enough for a single meal. That is fine. Re-heat left-overs in microwave to enjoy another day. This dish holds up very well to that.