The Stitching for Literacy program celebrates reading and needlework. Here is your advance notice to make a hand-stitched bookmark now to donate for Children's Book Week which runs May 2 – 8 this year.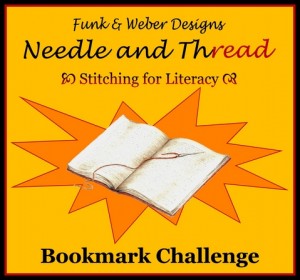 Jen Funk Weber of Needle and ThREAD is again sponsoring an annual drive for hand-stitched bookmarks that will be donated to libraries and schools during Children's Book Week. The Stitching for Literacy Bookmark Challenge runs March 17 – April 28, 2011.
During this annual Bookmark Challenge, independent needlework shops, guilds, and other groups collect hand-stitched bookmarks and donate them to libraries and schools during Children's Book Week. The bookmarks are distributed to kids as rewards for reading accomplishments.
This a wonderful opportunity to take a little time out with the needlework you love — make a bookmark that encourages a child to read. Check with your local stitchery shop or library for collection programs they are hosting, or take action yourself to host a program on behalf of a library or school. If you want to participate but are not sure where to donate, Jen at Needle and ThREAD is the point of contact to help you.
For knitters, here's inspiration and general instructions for a pleated-end bookmark that has a lot of possibilities of embellishment and personalization. The write-up is available for free at the HeartStrings FiberArts site.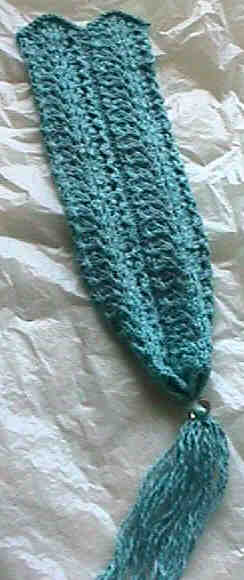 There are also more ideas for bookmarks made in cross stitch, etc. at the Stitching for Literacy site.
I hope you will be able to join stitchers all over in making bookmarks for this year's Children's Book Week. Feel free to post your comments and ideas here.
p.s. A shout-out to my fellow bloggers in this month's challenge.