Let's have some more fun with Christmas in July!
Carrying on from last week's enthusiasm about Knitting for Christmas in July, I decided to offer kits for the Bitty Beady Christmas Tree since I was getting requests to give knitters a jump-start in conveniently getting the yarn and beads from one source.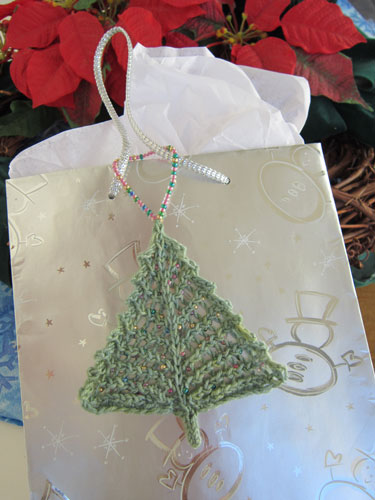 So now you can get Materials Kits for Bitty Beady Christmas Tree starting at just $3.95. There are several color options for yarn and beads that mix-and-match for appealing to a range of traditional, vintage and modern schemes.
You'll get all the materials you need to make one Bitty Beady Christmas Tree. NOTE: Pattern not included. Please purchase downloadable e-Pattern separately.
Besides your choice of yarn and bead colors, a floss threader is included IF you want to string your own beads. OR you can purchase the upgrade option to get the beads already strung on the yarn ready to start knitting right away!
You may also purchase a coordinating greeting card with envelope. This makes a nice gift enclosure to go along with either giving the kit itself, or with your completed bitty tree.
Even if you are not interested in a kit, you can purchase the pattern individually and use small amounts of glitzy yarn you have on hand, e.g. metallic yarn, or yarn that has been plied with beads and you just let the beads fall where they may. Want to go smaller (or larger): Other ideas and inspiration for variations on the Bitty Beady Christmas Tree.
Let's enjoy small projects like Bitty Beady Christmas Tree while the weather is hot-hot-hot. It's not too early to start getting ready for Winter holidays now, especially if you are like me and the months are just flying by. Where-oh-where did over half the summer already go!