I am thrilled that my new beaded lace scarf design Dragonfly Dreams is a finalist in the Patternfish 10,000th Design Competition announced in the November 2011 Patternfish Newsletter that just went out today. The winner will be chosen by popular vote. I'd love for you to vote for my design if you like it. 🙂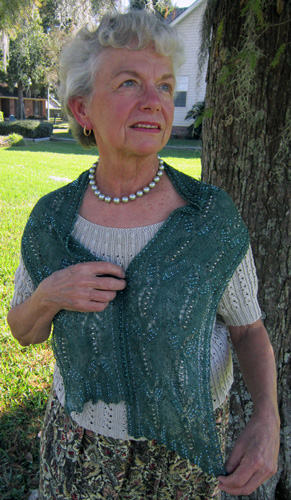 I knit the scarf in Buffalo Gold Lux color Malachite. For beads, I used Miyuki colors #18 Silver-lined Light Blue (dragonfly wings and scarf border) and #234 Metallic Gold-lined Crystal (dragonfly bodies).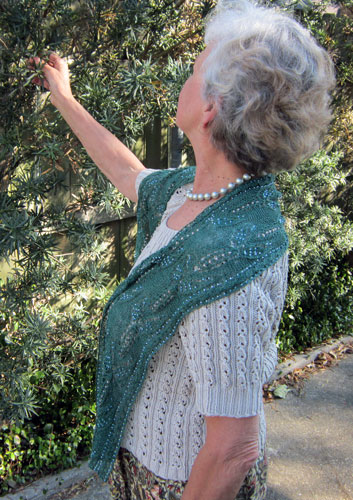 This has been one of my more challenging designs to render. I am pleased with the vision finally coming together. I had actually started playing around with possibilities early this year. Then I'd hit a design block or just wasn't quite happy yet with what I had. When Patternfish announced their 10,000'th Design Competition, this gave me the motivation (and deadline date!) to tackle this design again.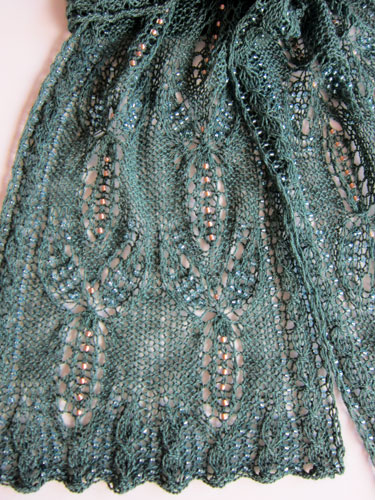 I am so pleased to be selected as one of the finalists. I'd love it if you'd take a moment to vote for Dragonfly Dreams to be the winner. Voting closes Nov. 18, 2011 EST. Let me know if you have any questions.
p.s. Please feel free to share this with anyone else you can think might be interested in helping me out. The more votes the better. 🙂 Thanks again!