chocolate decadence for the holidays
John is a terrific cook, although seldom makes desserts (which is good for both of us since otherwise they are just too tempting, lol).  The holidays do deserve  special treats, though. So he always looks for an opportunity to make this Triple Chocolate Rummy Cake to take to holiday parties where we can share the calories and yumminess. John shares his decadent recipe here —
Ingredients
1 box devils food cake mix
1 – 3.9 oz box instant chocolate pudding mix
4 large or xl eggs
1 tsp instant coffee
1 C sour cream
1 stick of unsalted butter (melted)
2 Tbsp Hershey chocolate syrup
12  oz pack of semisweet chocolate chips
1 tsp real vanilla extract
1/4 tsp real almond extract
1/2 C (or a touch more – it's the holidays after all!) Myers dark rum
Process
Mix all ingredients except cake mix, pudding mix and chips in a bowl until well blended.
Mix pudding and cake mixes in a larger separate bowl and stir to combine.
Pour the wet mixture into the dry and mix until just combined.
Fold in chips.
Put the batter in a well greased (I use basic cooking spray) baking dish or other container for cooking.
Heat oven to 275 degrees and cook for 80-90 minutes but check it with a tooth pick after about an hour.  When pick comes out clean it is done.
Once it cools for 15-20 minutes remove carefully to a cooling rack.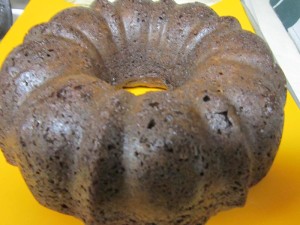 p.s. Have you seen John's recipe for Bison Burgers?