I haven't done a "Friends of HeartStrings" article in ages — I apologize. Time seems to get away (can you believe it is already almost December?)! I am resolved to do better over the upcoming months, because I really want to share with you some great things that others are knitting from HeartStrings patterns (and thus, giving them the kudos they deserve, too).
If you don't knit, or even it you do (and don't have time), J and J Alpacas is a neat place to visit that makes some of the HeartStrings scarf designs in their own alpaca wool that is grown and produced in Lincolnshire, UK.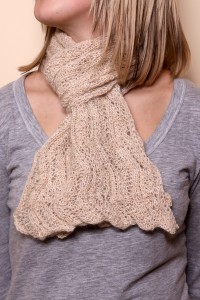 Did I say "neat". YES!! because I think it is cool that not only are the scarves hand knitted in baby alpaca (the first and softest fleece they will grow), but that each scarf comes with a tag and photo of the alpaca it came from. How special can that make your gift? . They can only produce 8 to 10 scarves from each fleece, so it makes your scarf from them very almost exclusive (and even collectible, if you are into that!).
I do hope you will visit J & J Alpacas to see their hand knitted scarves. They are currently licensed to produce scarves for both the Lacy Riverine and the Reversible Lace Ladders scarves (titled on their site as Riverine Scarf and Ladders Scarf respectively). If you are interested in others, I am sure they would welcome your suggestion.