I'm giving away a Luxury Smoke Ring Kit at the end of October over at the KnitHeartStrings KAL site. Will the lucky winner be you? You can win luxury yarn in choice of natural gray or natural white, and your choice of either of these 2 patterns to make a beautiful smoke ring.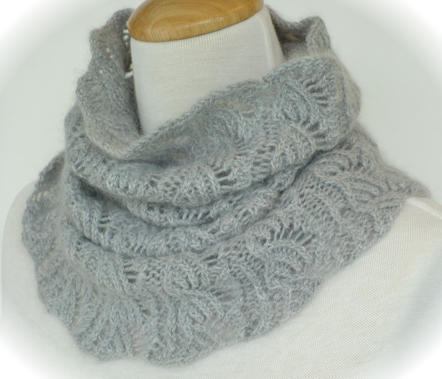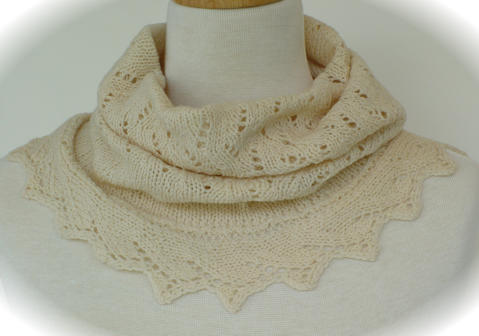 What is a smoke ring, you ask? It is a versatile accessory you can wear laid on your shoulders as a dressy cowl neckline, or pulled over your head for light-as-air warmth without messing your hairdo. A smoke ring is also sometimes referred to as a natchaq.
The Luxury Smoke Ring Kit you can win includes —
Personally autographed, hard-copy pattern for a smoke ring; your choice of either #A45 Smoke Ring with Lace Edging or #A49 Flared Lace Smoke Ring

A continuous skein of luxury yarn (50% baby alpaca, 25% merino, 25% angora) that is enough to complete the smoke ring of your choice in the color of your choice (either natural gray or natural white); the yarn has been washed and skeined, and is ready for you to wind into a ball to knit your smoke ring
To Participate in the October Prize Giveaway
Click on over to the Monthly Prize Giveaway page at the KnitHeartStrings KAL site to see how you can win the October Smoke Ring Kit.
The random drawing will be held right after I tally the entries at close of October 31, 2014. I'll announce the winner as soon as possible after that. I hope the winner will be YOU! Good luck.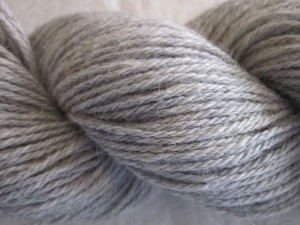 p.s. I hope you will join us at KnitHeartStrings for the Smoke Ring KAL this month. If you are not yet a member of KnitHeartStrings, you can Join Here.