Do you think it is too corny to photograph a large stuffed toy moose with a "moose lace" afghan?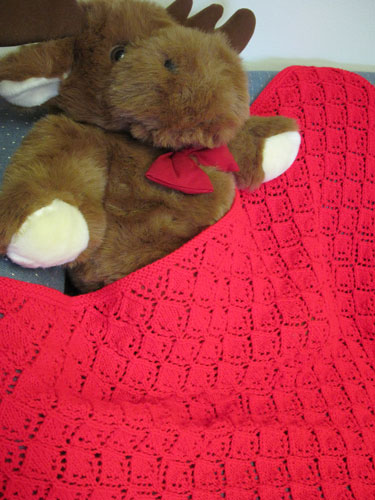 Not all lace needs to be knit in skinny yarn on tiny needles! This attractive, practical afghan is an example of "moose lace", i.e. lace knitted in a heavier yarn than usual. The lace makes this afghan lighter in weight for its size, yet pleasingly warm and snuggly.
I just love my stuffed toy animals (and I am long past being a kid). Couldn't help myself in dressing up this moose my hubby gave me some years back in this new Christmasy red afghan for the photo shoot. It just seemed appropriate to combine moose with moose lace. What do you think?
You might want to spread the word so no one misses out … Watch for the limited time offer to get the new Moose Lace Afghan pattern for free; info will be in the November issue of HeartStrings Knitterly News that will be emailed soon (be sure to subscribe if you have not already done so!) After the beta promotion period, the pattern will be sold at regular price, so I hope you are listening in and won't miss out!