Zephyr-In-A-Net Lace Yarn and Shawl Pattern
Are you ready for another giveaway?
For April, I have another specially prepared prize to award some lucky knitter of this month's KAL being held at KnitHeartStrings.  Good luck to everyone participating in the KAL and Giveaway!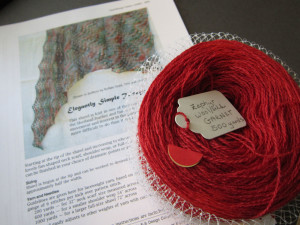 This prize includes:
500 yards of Jaggerspun Zephyr 2/18 Wool/Silk Lace Yarn in color Garnet Red. This yarn is wound into a center-pull ball and ready for you to knit. The center-pull ball is  cradled in a squishy net mesh sleeve to help the fine yarn feed smoothly.
Autographed copy of the Elegantly Simple Triangle Shawl pattern.
After you finish the yarn, the net mesh sleeve can be re-used when washing small delicate items or keeping socks sorted.
Jaggerspun Zephyr yarn is a favorite of lace knitters. If you've used Zephyr before, you already know the treat that is in store for you. If you haven't tried this yarn yet, be prepared to be thrilled with how pleasant it is to knit and wear. Zephyr-In-A-Net lace yarn is also available at the KnitHeartStrings online store.
Elegantly Simple Triangle Shawl pattern is a lovely, fan-shaped design that begins at the point and is knit in one of those lovely laces based on the Shetland feather and fan stitch. The bound-off long edge can be finished in your choice of dramatic points or graceful scallops. There is enough Zephyr yarn in this prize to make a shoulder wrap size.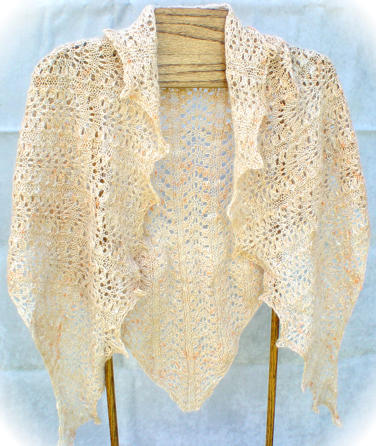 With so much movement and interest in the design of this shawl, it might look more difficult to do than it really is. Hint-hint: You'll have a chance to practice the basic pattern stitch for the June KAL, although we will not be knitting this shawl pattern itself for the KAL.
Want to win? Simply hop on over to the KnitHeartStrings site to read about the different ways you can rack up entries. The winner will be drawn at the end of April 2014. Good luck!