I barely remember Nancy Miller, one of the children of next door neighbors when I was going to high school in Winston-Salem. Then about 15 months ago I happened to (finally) look at my Facebook account which I had opened several months prior but had never actively used. There was a message from Nancy Miller Bolten, coming out of the blue so to speak, 45 years after I had graduated and left Winston-Salem.
She said "You have to be the sister of Happy Erickson. You look just like the Jackie as I remember. We used to live next door to you on Pennington Ln in Winston-Salem. I have been wondering where and how Happy has been all these years since we moved to Charlotte…" Happy and Nancy had been close playmates, so of course I was glad to help them get in touch with each other again.
And then Nancy and I realized we had the needle arts in common and have since become steady cyber friends. And so it is a delight to have Nancy Bolten as our blog guest today. I know you will enjoy this peek into her creative talents.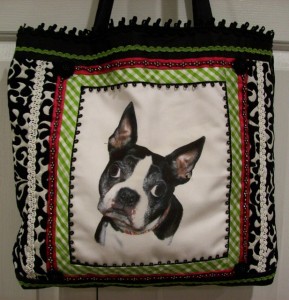 From Nancy —
I love what you are doing with the item of the week. Can I submit the Boston Terrier tote I made for my sister Emily to take with her to Germany over Christmas? It was her Christmas present for my baby sister so she could have a nice tote to put all of her goodies. Her husband is over there for a year. The Boston Terrier is actually her dog and I designed the bag with all the glitz to go around it (with a few of her specifications of course!)
I have forwarded the picture of Emily with her tote in Paris/Germany and have attached some  of my own. The dog's name is "Roxie". She has a crystal earring too!
The "Roxie" tote has several colors of  silk, decorative interior with green silk header, swarovski crystals, and other embellishments.
I love your blogs and posts…keep them coming!
Nancy also reminded me, "You may not remember babysitting for us when Emily was just a baby. Mom said you sat a couple of times then you were off to college for most of the time we lived next door." Now that really brings me down memory lane.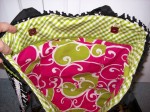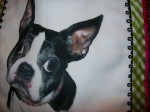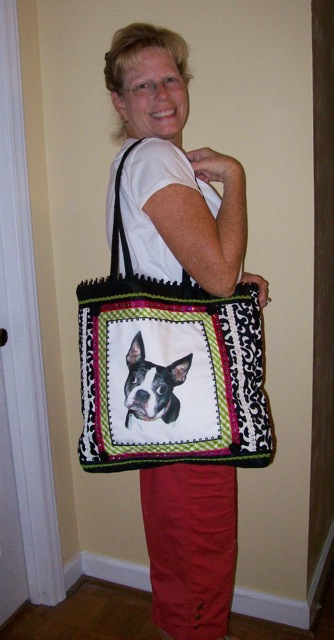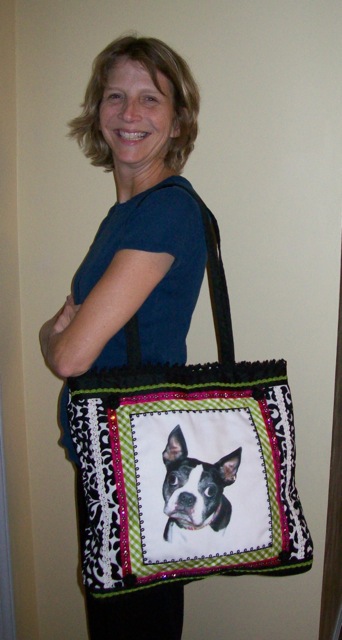 You can visit Nancy at her Sew Cute Decor & Finishing business website (be sure to see other examples of her needlepoint and home decor here) or on Facebook. Thank you Nancy!
~ ~ ~ ~ ~
Designer/Creator Nancy Bolten of SewCute Decor & Finishing has been sharing her expertise for 24+ years from her studio in Charlotte, NC. Her work has been featured in designer homes, including the ABC October 2008 Extreme Makeover Home Edition, Charlotte, as well as represented in both Charlotte Observer and Charlotte Weekly.