Last spring I planted a few seeds I had been holding onto for 8 years. I had collected them from a fellow fiber-friend on the other side of the state. Jean – are you listening in? All I remember was that I was attracted to these flowers she had growing along her fence and that she was happy to share some seeds. I am sure she told me the plant name, but of course I didn't write it down at the time.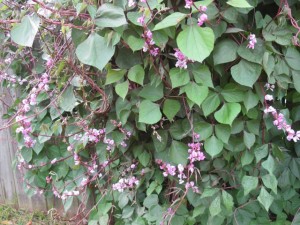 So with just 3 of these plants along my back fence, I had a glorious fence-ful of viney flowers that I enjoyed through the summer and into the late fall. They even served as a nice back-drop to the preliminary photographs I took of the "Half-note Symphony" shawl.
But I still do not know the name of this flower/plant. Do you?
p.s. If this flower is looking somewhat familiar to you, but you need a larger photo to look at, try this. But beware that it is a 3.8 MB file and could take a while to download depending on your connection speed.