I met Vickey through my HeartStrings newsletter list. She is a 72 year old retired nurse, writer and crafter. And she is busy as ever in caring for people. She shared with me that she makes good size topsy turvy cloth dolls (girls and boys…82 given out so far) free to kids with devastating illnesses.
She also sent me the below story she wrote. It is so tender-hearted. I imagined it might be about her. But she just replied simply, "to the extent that I make and give away dolls to very sick children, and do some charity knitting and crocheting, plus write things to send out on the internet." I asked her if I might share it with you, and she graciously agreed.
---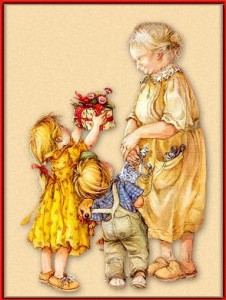 SQUARES OF MANY COLORS 
(C) Vickey Stamps 5-7-10 
The old woman sat down her knitting, having earlier picked up the house, making herself busy to pass the day away.  Other than some knitting to busy her mind and hands, there was nothing else to do.  There had been a new great grandbaby born in the family this week and she wondered if she might think
of something more to make for it.  While she had prepared clothing and thin blankets for the warmer season it would be born into already and had given
it to the new parents, she knew something was lacking.
She knew there was something needed doing.  What she didn't know was what that something was.  She lowered her head over the yarn on her lap.  Perhaps the Lord could help her, even though it was just a tiny thing to be concerned over.  She said a short little prayer asking for guidance.  There was no
answer, but she didn't doubt one moment that one would come any time now.  
Perhaps she should cast on some stitches and let her hands decide.  She could make squares of different colors and use up all those scraps of yarn she'd
hung onto greedily, not wanting to waste them by tossing them away, as if
their softness and color held no value. 
And so the old woman, grandmother of many, began to think about both of
the children now,  and about their growing up times.  She frowned slightly
at the difficult times they had gone through together, letting a smile lift
each side of her lips also remembering the good times that were more in number.  She'd make a square of green and even some brown for her remembering of her girls hazel eyes. 
The squares grew in number as the old woman devoted many hours to the
numerous squares in the days that followed.  There were the shades of
green that poked up from her garden, showing new life.  She had planted
a new one each year.  She lifted up a purple square, touching it gently. 
Its inspiration had come from the berry bushes east of the old farm house.  
In her mind, she remember the harvesting of last years garden.  There was
a square in red for the tasty tomatoes and radishes, and one of an off white color, for the cauliflower.  There would have to be a soft blue with a hint
of gray for her husbands eyes.  How she missed him.  It seemed just
yesterday he had passed on.  Perhaps she'd add in some pink for the roses
he'd planted beside the porch steps for her their first year of marriage. 
Yes, she would do that.  Perhaps another square could be a deeper blue for
the Marine son, who had never returned from the war. 
She thought of the loving young wife and of the children left behind, and
found colors of yarn to use for each of them.  All these years later, she,
in her mind, saw him as if even now, he stood before her in his 'parade
dress uniform.  He'd been tall and stood so straight.  She thought upon
the colors of life, perhaps she would stitch them all together with a black
yarn to match the darker crossroads they'd all had to jump over as
they continued down the road of life.
Before she knew it, there were enough squares to put together for a blanket that covered her lap and came almost to her neck.  It would keep her warm,
it would cover the grandchildren that came to spend nights with her from
time to time.  She'd tell them the story each square had made her think of
as she worked.  A smile again lifted her mouth.  She felt a glow of
happiness.  Perhaps that glow was her answer from the Lord, as to the
prayer she'd sent.  It had turned out not to be another gift for the baby,
but a gift all her family could share in this home of love.  She was as sure
of that as she was of anything.  It would soon be Mother' day. 
A wonderful day.  ……..Yes, indeed, it was true…
LIFE WAS GOOD

http://www.ourchurch.com/member/w/whisperinghope/
---
This story also brought to my mind that the making of the story-colored squares was a gift from God to the Grandmother, too. i.e. reviving those life-precious memories.
I hope you enjoyed reading Vickey's story. Did it bring memories to your mind, too?
If you'd like to thank her or ask her to add you to the list to get her writings, you may send her an email at wordpaintervs@live.com with your thanks and request.  She will send it her friend Ann Forrest, who maintains a list of those who like to read her writings.
I also wanted to pass along this request from Vickey:
"I do some small charity knitting, like tiny sweaters, socks  for a relay for life for the American cancer Society Christmas tree each July.  Folks take an ornament and leave a donation, plus some chemo caps as needed, and socks for new babies through a pregnancy care center…stuff like that.  I have made some simple socks for myself and my grown with grandkids daughters.  I teach a basics class weekly to a tiny group of knit and crochet students.  I'm a senior age 72 with  some large health problems.  I sew 22 inch girl and boy cloth dolls and give them away to children with cancer and other devestating disease's.  (82 so far)  I am wondering if you have anyone of your customers who would like to donate a washable 16 by 48 inch (in the round) knitted bit of a simple pattern, I could use for a skirt to make a really different doll.  I'm sending a picture of me with the dolls, if anyone would be interested.  If I were not  so busy and handicapped, and with all that I already do, I'd do one myself.  When I'm not sewing and doing knitting etc and teaching, I'm writing short stories for the internet, etc etc etc.  No big deal on a skirt, but was just thinking that it would be nice to have a knit thing for a child.  Nice and soft.  Nicer yet if I had one for the dress part of the doll and one for the white part of the nightgown.  They are topsy turvy dolls.  I embroider simple faces…with a sleepy face to go with the nightgown side and a smile face for the dress side.  I never put on hair because the kids with cancer lose theirs."