Earlier this week I was looking around for a photo prop to go along with my article The Key to Keeping Your Free Membership Active at the Knit HeartStrings learn-and-knit-along site. A regular house or car key would not be very interesting. And photo'g one of those new-fangled hotel card keys that is loaded with advertisements would be too crass. Then I thought of  this old hotel key that is both interesting and mysterious to me.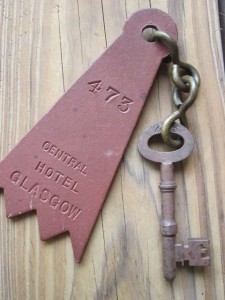 Isn't it's design lovely? (at least I think so) They just don't make keys like this anymore. I like it's boldness. It's strength. It's manly, rustic look.
How did I come into possession of this key? It's a mystery! The name plate identifies the Central Hotel Glasgow. A little Internet research reveals this hotel dates back to 1883 and was built at the site of Central Station, the main train hub of Glasgow. I'd love to go to Scotland one of these days, and  now this hotel is definitely on my list of places to see. But I still don't know how I got the key to room 473. Something in my child- memory tells me my grandmother might have said my uncle had stayed there while on a tour of service duty and gave her this as a momento. But I might just be making this up as a fantasy.
Please help me start solving the mystery behind this key. Does this style of key look familiar to you and could you help date its time in history?