I am pleased that Catherine Wingate, author designer of The Sock Calendar and The Sock Journal, is here to give us a peek into "The Designing of …"  process behind her sock designs. I think you will enjoy, as did I, hearing the what and why of inspirations for a few of her favorite designs. And now turning this over to Catherine —
---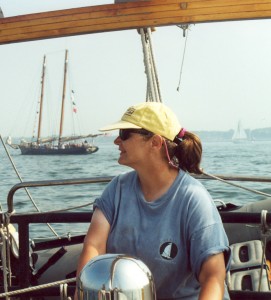 As a designer, I've been queried about the design process itself.  "Does the yarn inspire you first and initiate the creative process?" "Do you start with a design in mind and then search for a suitable yarn?"  "Do certain knitting stitches themselves come first and lead to a design?"
Yes to all, at least in my case.  I've experienced all of the above along with some other inspirational triggers that I'm forgetting at the moment.
Yarn can always be a primary source of inspiration.  Every fiber-player has picked up a skein of something lovely and instantly slipped into daydreaming about what it could become.  The variables relative to the yarn play out in the mind almost unconsciously as one ponders the quality, fragility, twist, structure, wear-ability and other facets while mentally seeing possible finished projects.  Some yarns are designed with a specific purpose, e.g., sock yarns, so the daydreaming starts further along in the design process…
---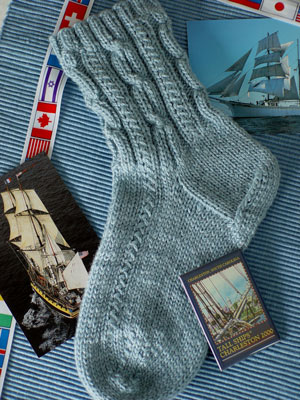 Sometimes I begin with a finished design in mind and reverse engineer the process to decide which yarn(s) would work out best.
For example, I designed  Ahoy! Socks after sailing on the tall-ship Gazela Primera and wanted to mimic a fat, thick, traditional hawser cable that we saw during a stopover at Mystic Seaport.  I used a combination cabled stitch for the motif and a springy, twist-retentive yarn to maintain the integrity of the resulting texture.  [A pet peeve of mine is the wrong yarn for a project with the inevitable poor result and lack of wear-ability.]
---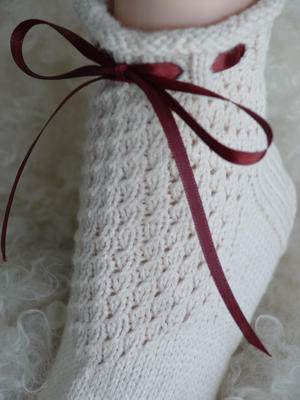 There are certain knitting stitches that I am strongly drawn to and want to use in designs.  Usually they're stitches that have textural value and that I've not seen used in other designers' recent work.  The stream stitch, used and well-received in Sock Therapy, exemplifies what I most value in a stitch; that it be easy, and fun, to knit — with  both the easy and fun requirements filled by  a stitch pattern that has a short and simple multiple-and-repeat structure so that a knitter can easily master it.  I am partial to stitches that provide what Mary Thomas' book would call a textured fabric for both their importance in the history of hand-knitting and their beauty.
---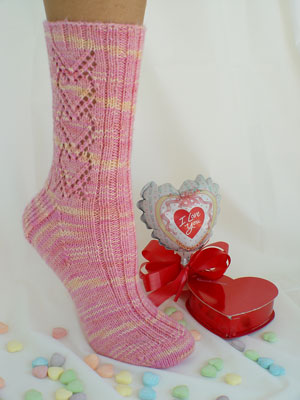 And then, sometimes, there's a design that continues to please the creator and originated from all three of the inspirations.  I am immodestly happy that knitters have enjoyed Sweet Valentine because the stitch and the yarn and desired end result worked exactly the way I'd hoped…and that does not always happen, yet alone so easily!
---
Thanks so much Catherine for stopping by. I enjoyed working with you on
The Sock Calendar
and
The Sock Journal
.
And readers, thank you also for visiting with us today. If you enjoyed seeing these designs and would like to see more of Catherine's designs in her two books, hop on over to these gallery pages at Ravelry for The Sock Calendar and The Sock Journal
p.s. Although the mini-monthly calendars are out of date in the books, Catherine's classic sock patterns are still a popular knit anytime of the year.