Memories … memories. This picture is from Halloween many, many years ago.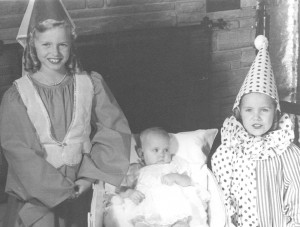 That is me on the left (so happy to be a princess finally). On the right is middle sister dressed in the clown costume I was relegated to until I grew out of it (It was functional, though, because you could wear a jacket under the costume in cold weather — we were living in Chicago area at the time — nonetheless I hated that costume and was glad to hand it down!).
Obviously, youngest sister (in the middle) did not go tricker-treating that night (but isn't she a sweetie?).
Love these memories, and I am sending special love to my sisters  tonight, too.
p.s. Yes, that is my real hair with those long curls.