Today I found this in the box in the attic that I had not looked through in ages. It is a hand-written sheet of paper from many, many years ago written to me by my yet-to-be husband Johnny. It is not dated, but it would have been in the 1989 timeframe when I was having some serious problems in life. I hope its message brings you encouragement in a time of need as it did for me.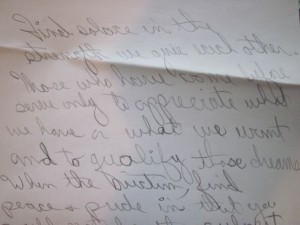 "Find solace in the strength we give each other. 
Those who have come before serve only to appreciate what we have or what we want and to qualify those dreams.
When the victim, find peace & pride in that you could not be the culprit, it is not in your nature.
Never stoop to the level of those who would hurt you for you become your own enemy. It is the goodness in you that lets you become the victim and that same goodness will let you be at peace with yourself."
Although I lost Johnny in the flesh when he died from cancer in 2001, it is little things like this that ever remind me that his kind soul lives on and he is always with me. Thanks be to God.