I had a very nice comment from a reader who had seen the photo of my Country Girl Socks made in Sour Ball Sock-Ease. Of course, it is always a thrill hearing from knitters (or even others just inspired by the beauty of knitted art) taking the time to write me with kudos.
Anyway, the gist of the comment was about the inspiration to the person new to sock knitting. I am always happy to be an enabler to new sock knitters! She said:
"I loved your socks. Your photos are beautifully done, and the time you took to photography them with the white back drop etc. sets them apart. Your work is beautiful, and its nice to see such lovely work photographed so well.
I am new to sock knitting, my 17 year old daughter (whom I taught to knit) and my other daughter who is 20 both knit circles around me, and I am thrilled to see them do so well with knitting. My 17 yr. old is a sock queen and knit monkeys, a pair at a time on magic loop. She inspires me!
Thanks for the look at your beautiful socks."
How can I not be pumped up about that? It really makes the day.
And … This reminded me that I still had this sock!
Originally I had made the single sock just so I had a model to photograph for a special edition pattern for Lion Brand (i.e. a republication of the original pattern Country Girl Socks I published in 1997 where the model is made in hand spun yarn). Although I've knitted other models in commercially available solid colored yarns, and once in a multi-color, I've also liked the way this design had worked up in the Sour Ball multi-color (Lion Brand had me test their new Sock-Ease yarn before it was available to the general public, so this was a bit over 3 years ago!).
Since I no longer need to keep this sock pristine for exhibit and photography purposes, I am planning to work up the 2nd sock and use the pair for ME. Yes, something for myself! What do you think the chances of me matching gauge/size of something I made 3 years ago? Oh well, my feet are not quite the same size either, lol.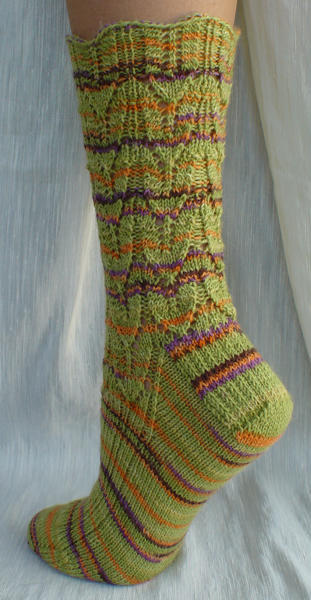 p.s. I do appreciate anyone taking time to seed me constructive comments as well — I know that the reality of things is that I am not perfect nor can please all of the people all of the time, but I do listen and do what I can to address concerns if you have them. But hopefully we can all knit happy!